DeFi & NFT Dashboards | Cryptio Colossal
Welcome to the Cryptio Colossal blog series. This three-part blog series looks at Cryptio's journey from Ionic to Colossal, focusing in detail on three new elements of Cryptio – data a
uditability and integrity, e

nhanced accounting workflows, and live dashboards.

Colossal's new NFT and DeFi modules offer unparalleled access to real-time data, solving key challenges previously faced by customers using Ionic. With the launch of these modules, Web3 businesses using Colossal can now track their NFT and DeFi positions, view financial data across multiple wallets and networks and make informed decisions about their investment portfolios.
Cryptio Colossal Launch | Highlights
Auditability - data ownership, completeness, and valuation: indexing, chain integrations, sanity checks, exchange integrations, and fair valuation.
Enhanced accounting workflows, categorize your transaction data with ease: new user interface (UI), Smart Contract Engine, complete reporting suite for your crypto enterprise reporting (Netsuite), impairment, additional cost basis methodologies, enterprise-grade customer support, reports.
Live dashboards - instant data accessibility: NFT module, DeFi module, certifications (SOC 1 & SOC 2, and AICPA).
Live dashboards – instant data accessibility
With Ionic, our customers lacked the ability to live data track their NFTs, and had access to limited historical data on their NFT activities. Similarly, with DeFi, our customers didn't have the capability to track their DeFi position.
With Colossal, we are excited to solve these challenges for our customers with the launch of our NFT and DeFi modules.
Live dashboards with Colossal – what can you expect
🚨NFT module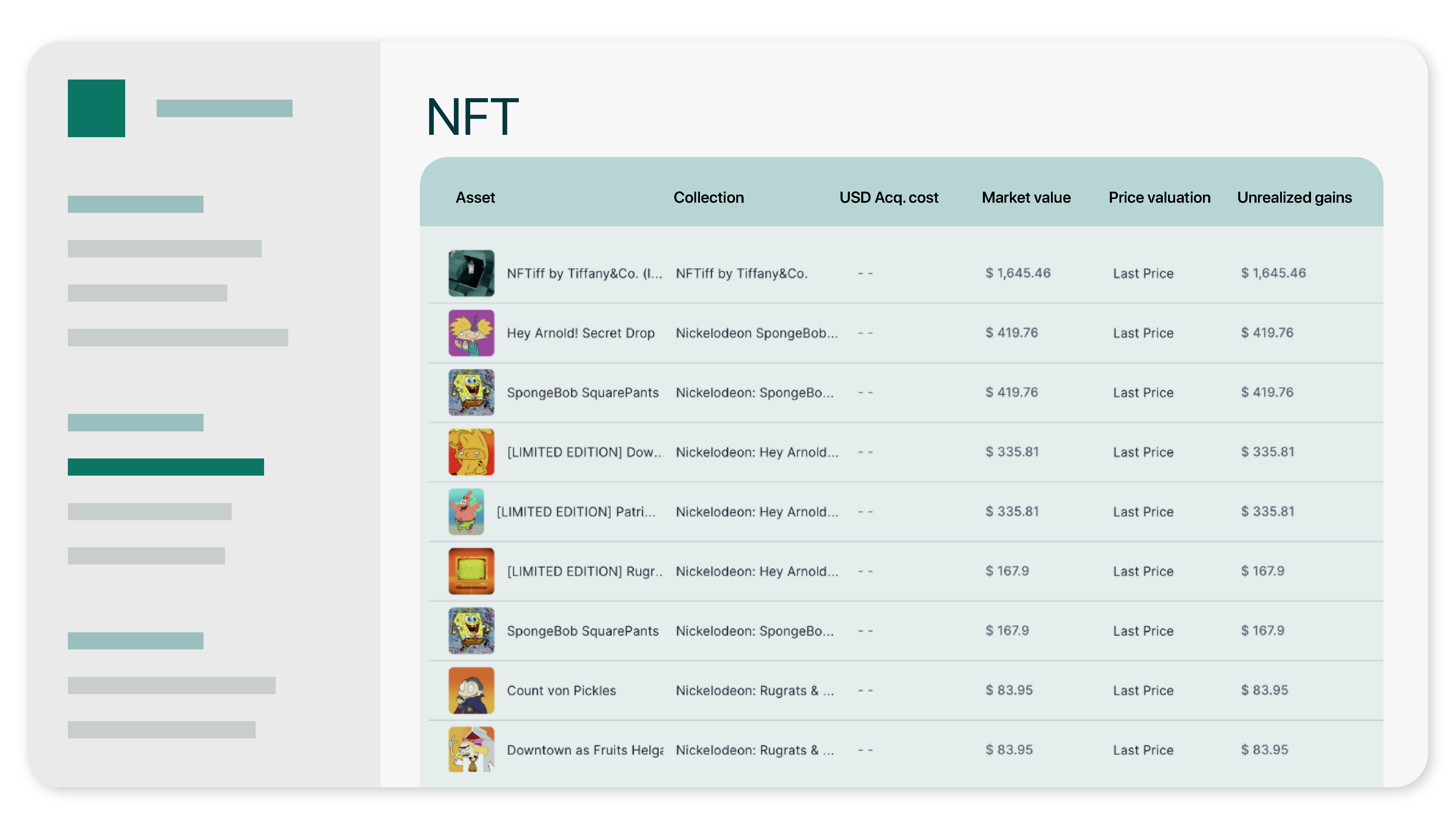 The Colossal NFT module will help enterprises and institutions holding NFTs oversee the value of their digital assets and ensure they remain compliant with global accounting standards.
Web3 businesses using Colossal gain a number of new features with the launch of the NFT module, including:
Automated labeling of NFT transactions to streamline accounting and reporting.
Historical and fair valuation of NFT assets, including floor price, last sale price and item price, for accurate transaction-level data.
IFRS- and GAAP-compliant reporting on NFTs.
Automatic cost basis computation for NFTs.
Tracking of NFT transactions, separating gas fees and item costs.
NFT asset visualization with intuitive design.
Impairment testing for NFT transactions.
Compliance checks with spam, stolen assets and wash trading detection and filtering.
NFT categorization in the dashboard with automatic tagging including Art NFTs, PFP NFTs, Music NFTs, and Writing NFTs.
🚨DeFi module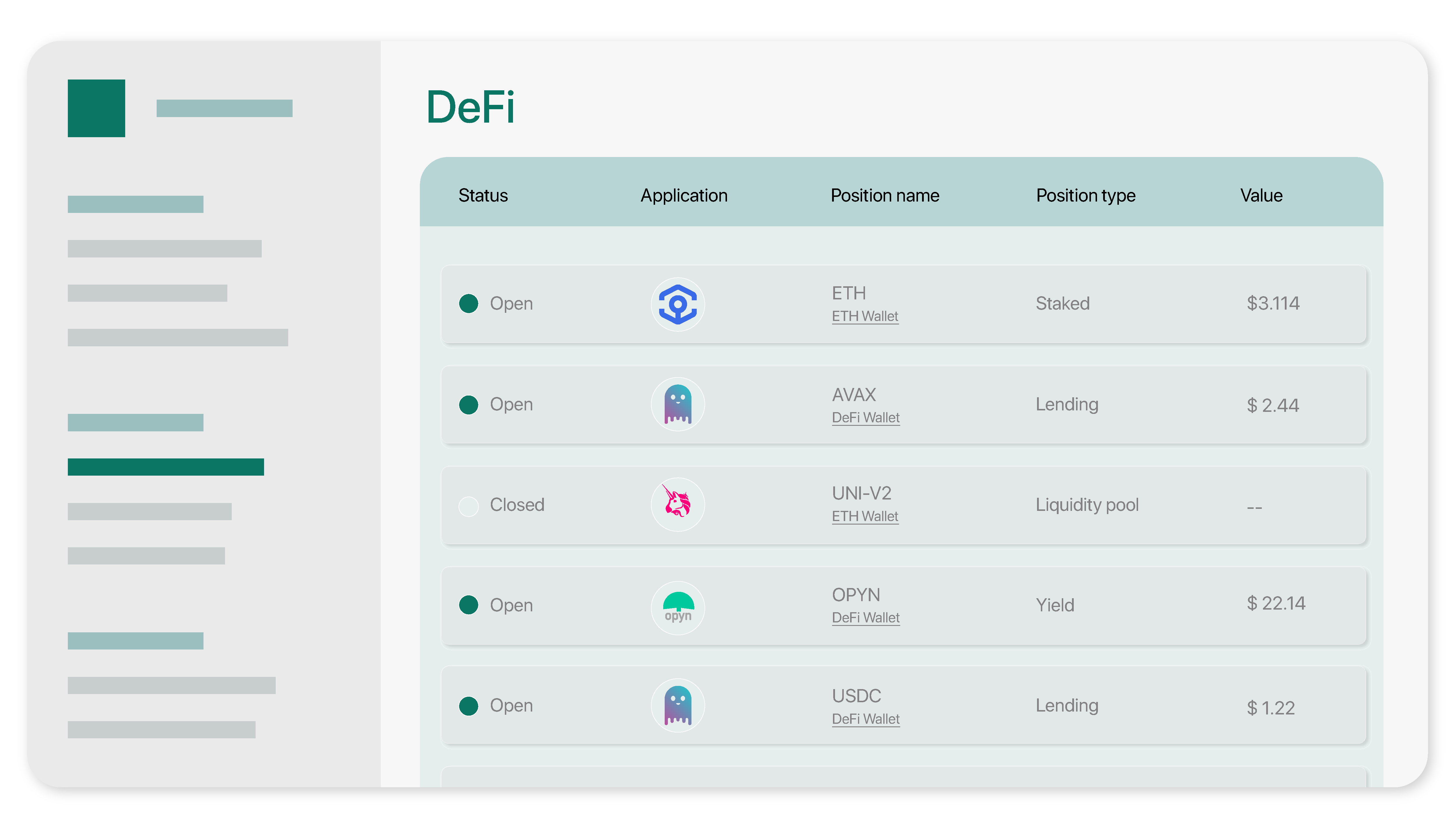 The Colossal DeFi module will allow our customers' treasury team to view their trades in one place along with their actual DeFi position/reports. Web3 businesses using Colossal gain a number of new features with the launch of the DeFi module, including:
Get financial data on your contract positions across all wallets and the most popular Defi networks (Ethereum, Avalanche, BSC, and Polygon) in one view.
Calculate your DeFi realized and unrealized gains and losses, ROI, and impermanent loss.
Analyze your contract positions across multiple applications and make decisions on your investment portfolio and allocation.
Get organized using the module and claim rewards on time.
🚨Certified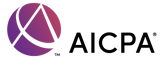 SOC1 & SOC2 certified: As a fully SOC1 and SOC2 certified platform, Colossal guarantees our continued commitment to the highest data security and audit standard for crypto enterprises and institutions.
Get started with Cryptio Colossal today
Cryptio Colossal is your leading data layer for crypto accounting and reporting. Our software lets you instantly transform complex on-chain activity from Ethereum, BSC, Polygon, and 12+ blockchains into auditable-grade ledgers.