Enhanced Accounting Workflows | Cryptio Colossal
Welcome to the Cryptio Colossal blog series. This three-part blog series looks at Cryptio's journey from Ionic to Colossal, focusing in detail on the three new elements of Cryptio – data a
uditability and integrity, e

nhanced accounting workflows, and live dashboards.

In addition to significant updates to its key functionalities, Cryptio has also received a fresh, modern design and user interface. The new and improved accounting workflows will allow you to easily access your favorite features, saving you time and increasing productivity. Get ready for a streamlined experience that will make managing your tasks a breeze.
Cryptio Colossal Launch | Highlights
Auditability - data ownership, completeness, and valuation: indexing, chain integrations, sanity checks, exchange integrations, and fair valuation.
Enhanced accounting workflows, categorize your transaction data with ease: new user interface (UI), Smart Contract Engine, complete reporting suite for your crypto enterprise reporting (Netsuite), impairment, additional cost basis methodologies, enterprise-grade customer support, reports.
Live dashboards - instant data accessibility: NFT module, DeFi module, certifications (SOC 1 & SOC 2, and AICPA).
Enhanced accounting workflows – categorize your transaction data with ease
Cryptio has got a new sleek design with a new user interface. With things like the new enhanced accounting workflows, you can look forward to being able to access all your favorite features faster.
Enhanced accounting workflows with Colossal – what can you expect
🚨 New user interface
The Colossal navigation bar updates include:
All your favorite features are still here! They can now be found in the nav bar on the left side
A cleaner design and intuitive interface
Quick access to the modules you need - this streamlined experience saves you time and effort when navigating your accounts.
One-click access to exciting views like the DeFi & NFT modules
This new design makes it easier for you to seamlessly and quickly access the features you need, making your user experience and product journey a great one.
🚨 Smart Contract Engine
DeFi & NFT based transactions are often complex and have no equivalent in TradFi. Existing ERP accounting systems cannot understand the complex nature of these transactions, nor can blockchain inspection tools, like block explorers.
Enterprises and institutions need a solution that can decipher multi-movement DeFi transactions and reconcile them in a way that meets accounting standards.
Cryptio's Smart Contract Accounting Engine does exactly that. It is able to consolidate and price complex transactions. Additionally, it automates the categorization and labeling of these transactions - saving you time and hassle in your accounting and reporting.
With colossal we are investing in broadening our coverage to over 10,000 protocols to automate the labelling of smart contract based transactions LPs, Mints, Mining Rewards and more.
🚨Complete reporting suite for your crypto enterprise reporting
End-to-end reporting setup that you need for all your digital asset accounting, audit, tax, and financial reporting.
Reporting suite
Have Industry-standard accounting and financial reports at your finger / in one click [in excel format].
Intuitive and clean design with customizable reporting structure. More user-friendly helps with digesting the data and creating straight to point of reports.
Have flexibility and control over reporting content based on how data is mapped by the customer in your workspace. Capture all essential information needed by the customer and stakeholders.
As part of the Colossal upgrade, you will be able to access the Reconciliation Reporting Pack.
A core aggregate of reports that will be crucial to your monthly reconciliation incorporating – Aasset roll forwards, Trial balances, General ledger entries, and transaction history reports.
Moreover, new data points are included in new and existing reports. For example, impairment information to Asset roll forward and Trial balance reports and book value impact to new transaction history report.
Push your subledger data to fiat accounting systems & ERPs
Cryptio Colossal enables you to push auditable on-chain data and enterprise-grade ledgers to any of the accounting software and bridge the gap between blockchains and legacy accounting.
Connect your crypto sub-ledger directly to Xero, Quickbooks, and Netsuite with Cryptio's native accounting integration and easily generate reports for Sage, SAP, FinancialForce, and Dynamics365 usage.
🚨Impairment
Our new Impairment module allows you to complete impairment on your digital assets so they can stay compliant with US GAAP regulations and get audit-ready. Built with guidance from ConsenSys, the creators of MetaMask, the module allows our clients to apply and run impairment testing as frequently as they need.
Key features of the Impairment include:
Run impairment tests on all digital assets on a lot-by-lot basis.
Apply impairment valuation with flexibility to choose the impairment period most applicable for your needs.
Set up impairment testing as frequently as you need. This can be annually, quarterly, monthly, weekly, or even daily.
Generate impairment reports with a new cost basis for monthly reconciliation.
The accuracy, robustness, and audit trail of impairments are paramount – all have been considered and battle-tested with the most complex back-office set ups.
🚨Additional cost basis methodologies
With Colossal, we now support all major cost-basis methodologies – FIFO, LIFO, WAC, and HIFO. All of which can be applied to your entire sub-ledger (universally) or individual sources (per wallet).
Determining the cost basis methodology for valuing book assets is a key component of establishing proper accounting books and records as well as tax planning for a client. Take a look at our guide to learn more about cost-basis methodologies with Cryptio.
🚨Enterprise-grade customer support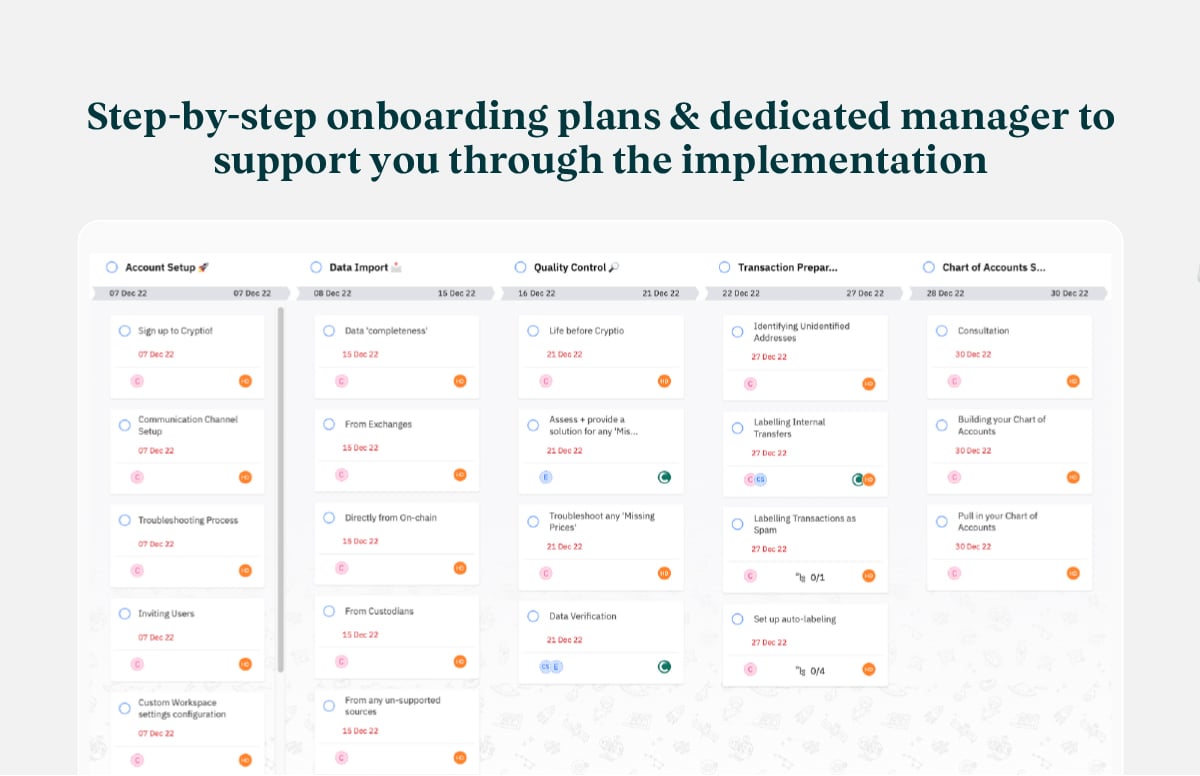 We've created a step-by-step personalized onboarding plan and dedicated manager to support you throughout the implementation plan.
We've built an enterprise-grade customer support team to take you through our quick-start onboarding and training to get you up and running with Colossal in no time.
Once you are successfully onboarded, your CSM will schedule regular check-ins, annual business reviews, and share best practice guidance for your use case. We also offer 24/7 support with our live chat, accounting partner access, and support center.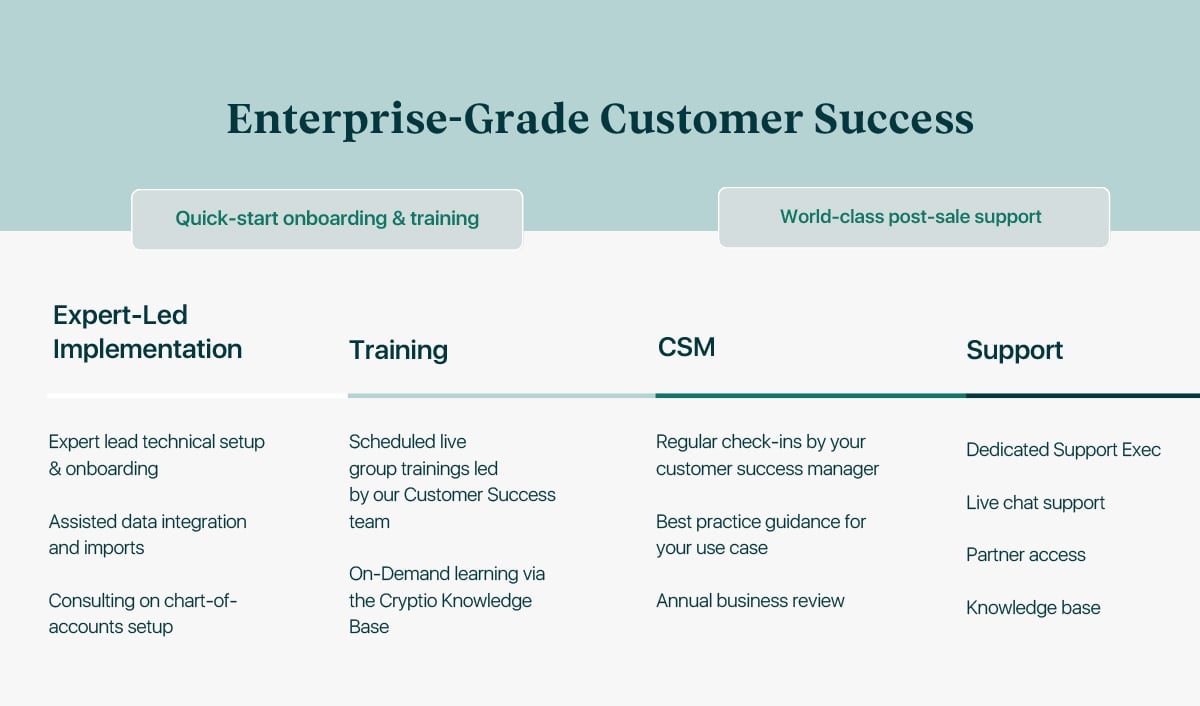 🚨Reports
Colossal's new enterprise-grade reporting layer can help you generate customizable reports. Key benefits of our new reporting layer include:
Automated revenue reporting for on-chain businesses: DeFi protocols, DeX's, aggregators, Lending protocols, and more. Colossal can help you track revenue generated on chain, auto-classifying complex transactions where there are multiple movements associated with the transaction.
Enterprise-grade reporting for NFT marketplace, or NFT artists: Colossal can help you track sales per drop, recurring royalties, service fees, transaction and minting fees, and generate reports for your accounting and financial statements.
Enterprise-grade reporting for crypto foundations, funds or VC: Colossal can help you track operational expenses, payroll, holdings, and generate robust historical reports for accounting and business ops.
On-chain staking rewards tracking: with Colossal, you can sync your crypto sub-ledger with your fiat accounting system. Generate ledger entries and portfolio balance reports on demand.
Next in Colossal: Live dashboards with Colossal
Read our third blog to learn about live dashboards with Colossal. With this third series of new updates, you can look forward to live tracking your NFTs and accessing limited historical data on your NFT activities. Similarly, with the DeFi module, you can easily track your DeFi position.
Key new features for this update include: the NFT module, DeFi module, certifications (SOC 1 & SOC 2, and AICPA).
Get started with Cryptio Colossal today
Cryptio Colossal is your leading data layer for crypto accounting and reporting. Our software lets you transform complex on-chain activity from Ethereum, BSC, Polygon, and 12+ blockchains into audit-grade ledgers.