Introducing Cryptio's DeFi dashboard for treasury reporting
As part of our Colossal launch,
Cryptio releases the DeFi module to support crypto enterprises track their DeFi live & past positions across EVM chains
Cryptio is powering the back office to top enterprises
Such as 1inch, Opyn, Paraswap, Metamask, Enzyme, Gnosis, DeFi Saver, Argent, dYdX, and Consensys. We're is excited to launch the DeFi module allowing Web3 companies to monitor their DeFi portfolio closely with accounting and audit requirements in one platform across Ethereum, Avalanche, Polygon, Binance Smart Chain, and Arbitrum (Gnosis and Optimism coming soon).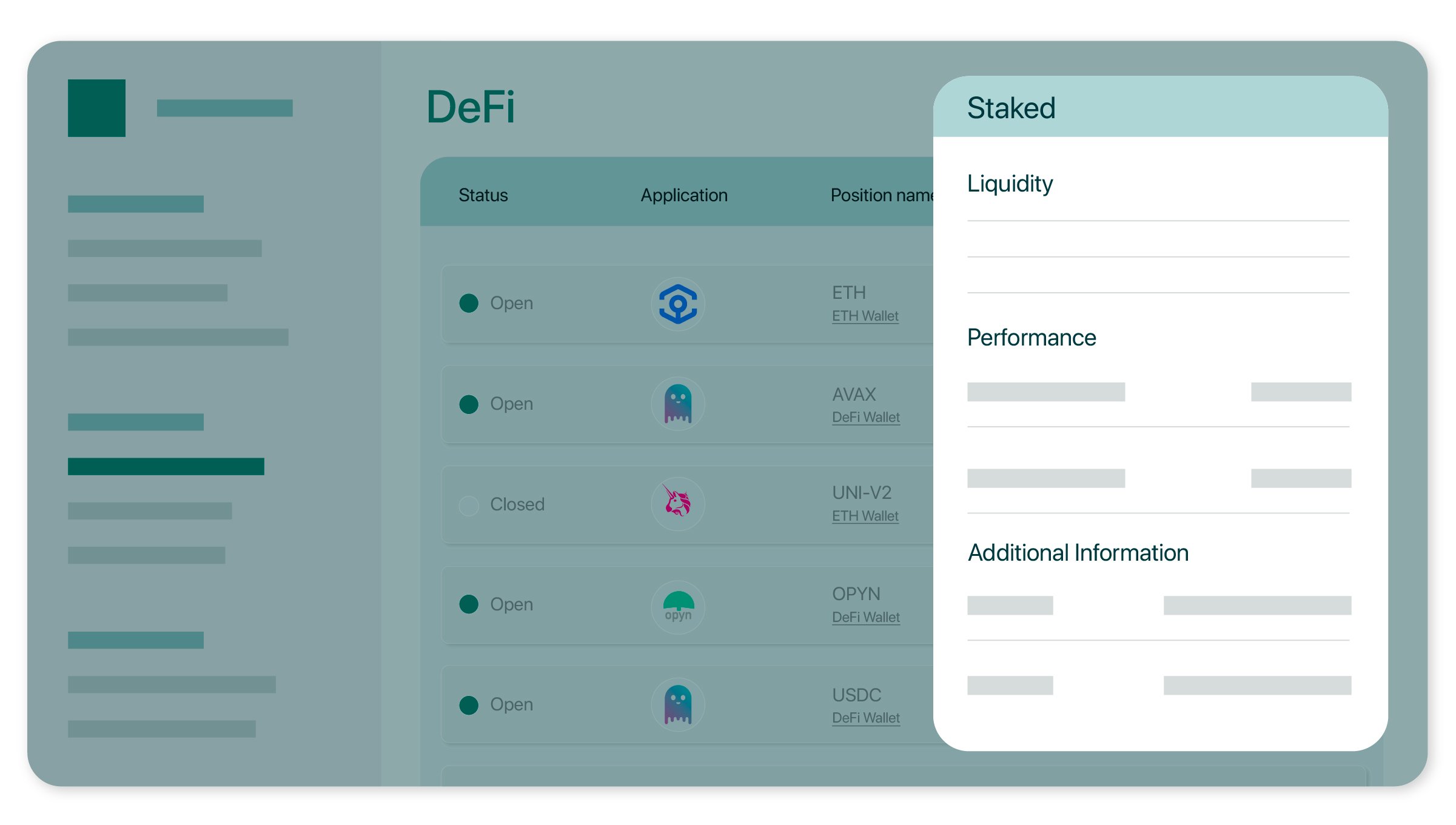 This new feature will help enterprises and institutions with DeFi positions monitor the value of their contract positions and their unrealized and historical P&L.
Enterprises using Cryptio gain a number of new features with the launch of the DeFi module, including:
Get financial data on your contract positions across all wallets and the most popular EVM blockchains in one view.
Calculate your DeFi realized and unrealized gains and losses, ROI, and track fees and rewards.
Analyze your contract positions across multiple dApps and make decisions on your investment portfolio
Directly access the related transactions of your closed positions. (Jump between your accounting view and dashboard)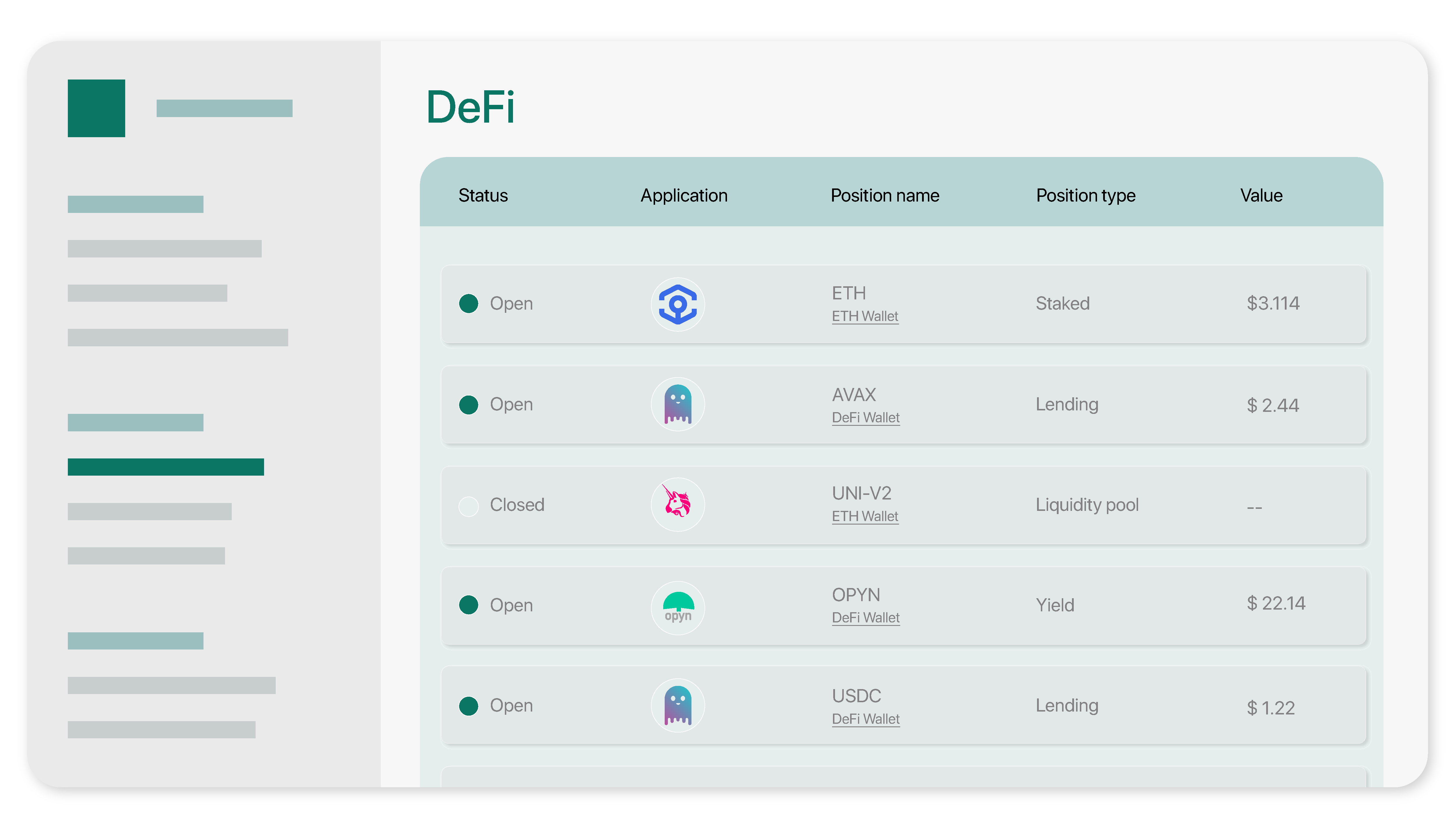 Our DeFi module will allow you to easily sync in any activities you've made on a DeFi platform through the access to the related transactions of your positions. Our DeFi module tracks:
Providing liquidity, e.g. to WETH/USDC liquidity pool on Uniswap (inc. V3)
Lending and borrowing, e.g. Aave
Staking, e.g. on Synthetix
Liquid Staking, e.g. on Lido
Derivative positions, e.g. on Opyn
Farming, e.g. on Sushiswap
A word from our team & customers
"We're excited to launch Cryptio's DeFi module, which helps businesses monitor and analyze their DeFi activities, learn from historical PnL data, and make data-driven decisions for financial success. We strive to empower users by simplifying the intricacies of P&L and accounting process associated with DeFi and simplify compliance with GAAP and IFRS standards."

Paul Drouet, Web3 Product Manager, Cryptio
"We have been active across multiple DeFi networks for many years now. It is the quintessential way for us to put our funds into use and make the most out of it. With Cryptio's DeFi module, we are super excited to monitor our DeFi activities, especially around LP position, earning yield, and staking in the back-office platform. This way, we can always make sure that our client's compliance and reporting are the most up-to-date without the pain of cross-checking via other portfolio platforms, helping us optimize our processes and take on more clients."

Joe David, Founder and Managing Director, Myna UK & Nephos Limited
"DeFi transactions are a big part of our (or our clients) portfolio. Cryptio has exponentially increased its DeFi support around token pricing and tracking of complex transactions with the recent updates. This new DeFi module has made our lives easier and more streamlined by seeing all our positions in the liquidity pool in one application while we make investment decisions and consider the accounting and reporting impact of it.

Erin Koen, Head of Asset Management, Avantgarde
Cryptio is committed to helping crypto-native companies navigate the ever-changing regulatory environment. It helps its 300+ users through regulatory complications and prepares them for audit challenges, providing accounting and reporting best practices and subject-matter expertise.
The start of complete Web3 reporting
To learn more about the DeFi module and Colossal, read our Cryptio Colossal blog series. This three-part blog series looks at Cryptio's journey from Ionic to Colossal, focusing in detail on the 3 new product features:
Auditability - data ownership, completeness, and valuation: indexing, chain integrations, sanity checks, exchange integrations, and fair valuation.
Enhanced accounting workflows, categorize your transaction data with ease: new user interface (UI), Smart Contract Engine, complete reporting suite for your crypto enterprise reporting (Netsuite), impairment, additional cost basis methodologies, enterprise-grade customer support, reports.
Live dashboards - instant data accessibility: NFT module, DeFi module, certifications (SOC 1 & SOC 2, and AICPA).
Start your journey with Cryptio Colossal today
Cryptio Colossal is your leading data layer for crypto accounting and reporting. Our software lets you instantly transform complex on-chain activity from Ethereum, BSC, Polygon, and 12+ blockchains into auditable-grade ledgers.
Get in touch with our team to book a demo.