Practical accounting techniques - How to analyze a token roll forward with Hash Basis
In this blog post, we'll delve into the intricacies of the token roll forward schedule, a vital tool in the world of crypto accounting. From a recent panel at the Crypto Finance Forum (CFF), Mackenzie Patel, CEO and Co-founder of Hash Basis, takes us on a deep dive into the definition, history, and practical applications of this essential accounting method.
Defining the token roll forward schedule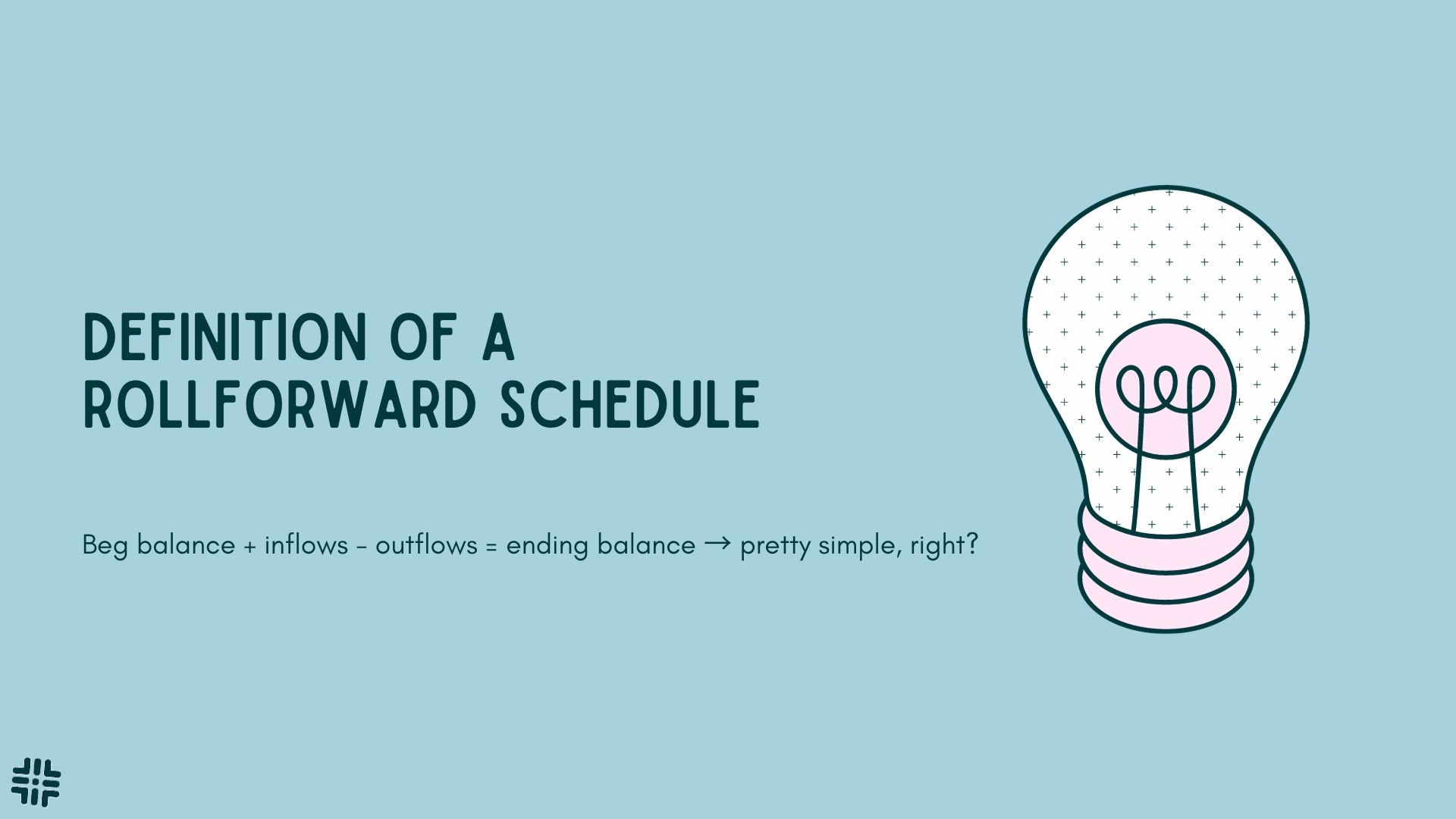 Mackenzie sets the stage by explaining the fundamentals of the token roll forward schedule:
"So it's pretty simple. You take the beginning balance of an asset, you add to it any inflows of that asset during the period, subtract any of the dispositions or outflows of the asset, and then you arrive at your ending balance."
Mackenzie Patel, CEO & Founding Partner, at Hash Basis
This formula, though simple, becomes crucial in navigating the complexities of crypto accounting. Mackenzie emphasizes the formula's pivotal role in navigating the intricate landscape of crypto accounting.
Unveiling the historical roots of the token roll forward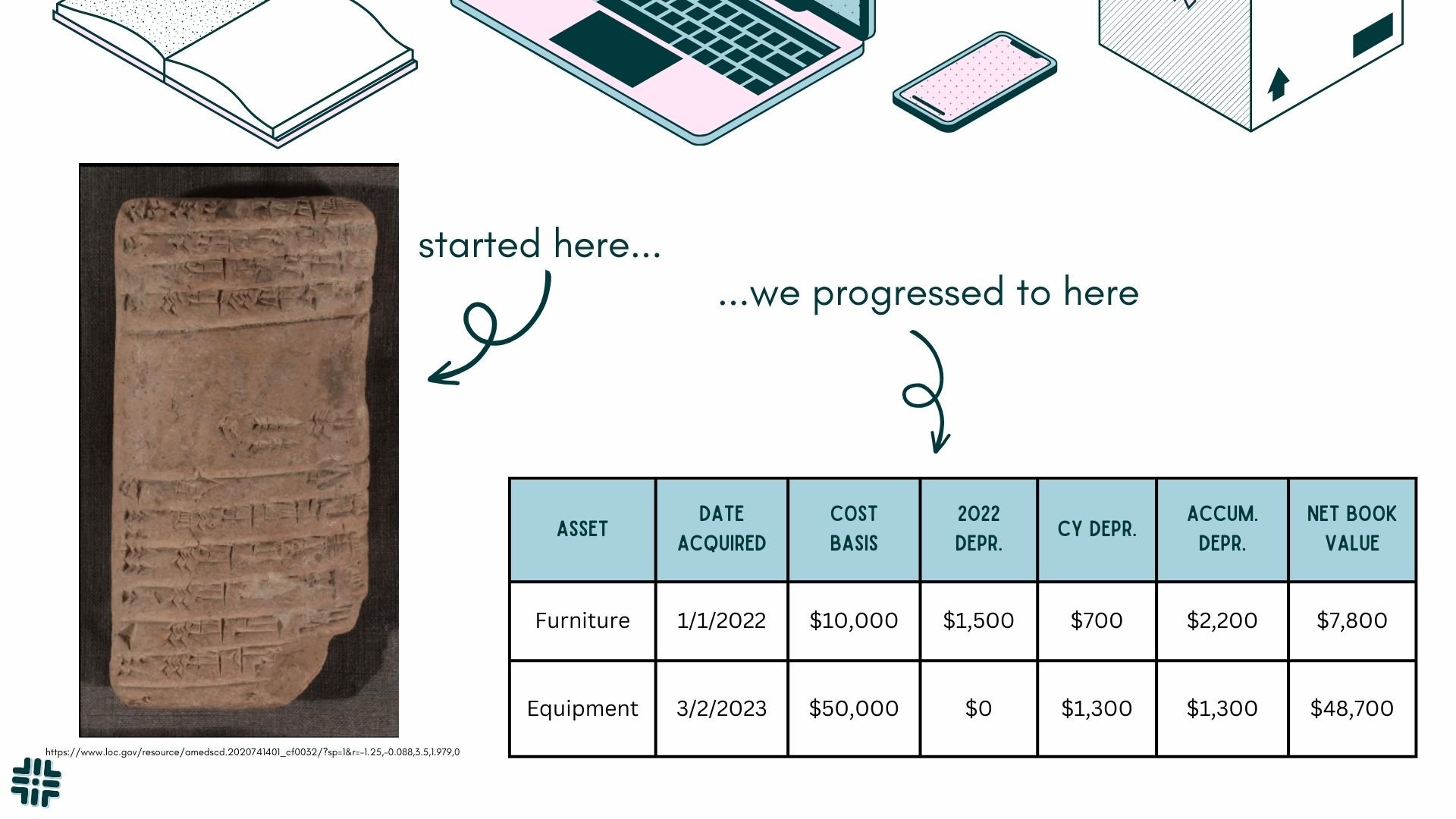 Taking a historical perspective, Mackenzie draws parallels between ancient Sumerian accounting tablets and modern roll forward schedules:
"While this isn't exactly the modern roll forward schedule as we know it, it is showing the ins and outs of an asset starting with the beginning balance."
The journey from ancient barley records to contemporary crypto roll forwards highlights the evolution of accounting practices over millennia. This historical perspective sheds light on the evolutionary path of accounting practices, spanning millennia."
"Although not a direct precursor, these ancient records depicted the ins and outs of assets, akin to the beginning and ending balances we see in contemporary roll forwards."
Why token roll forwards matter in modern crypto accounting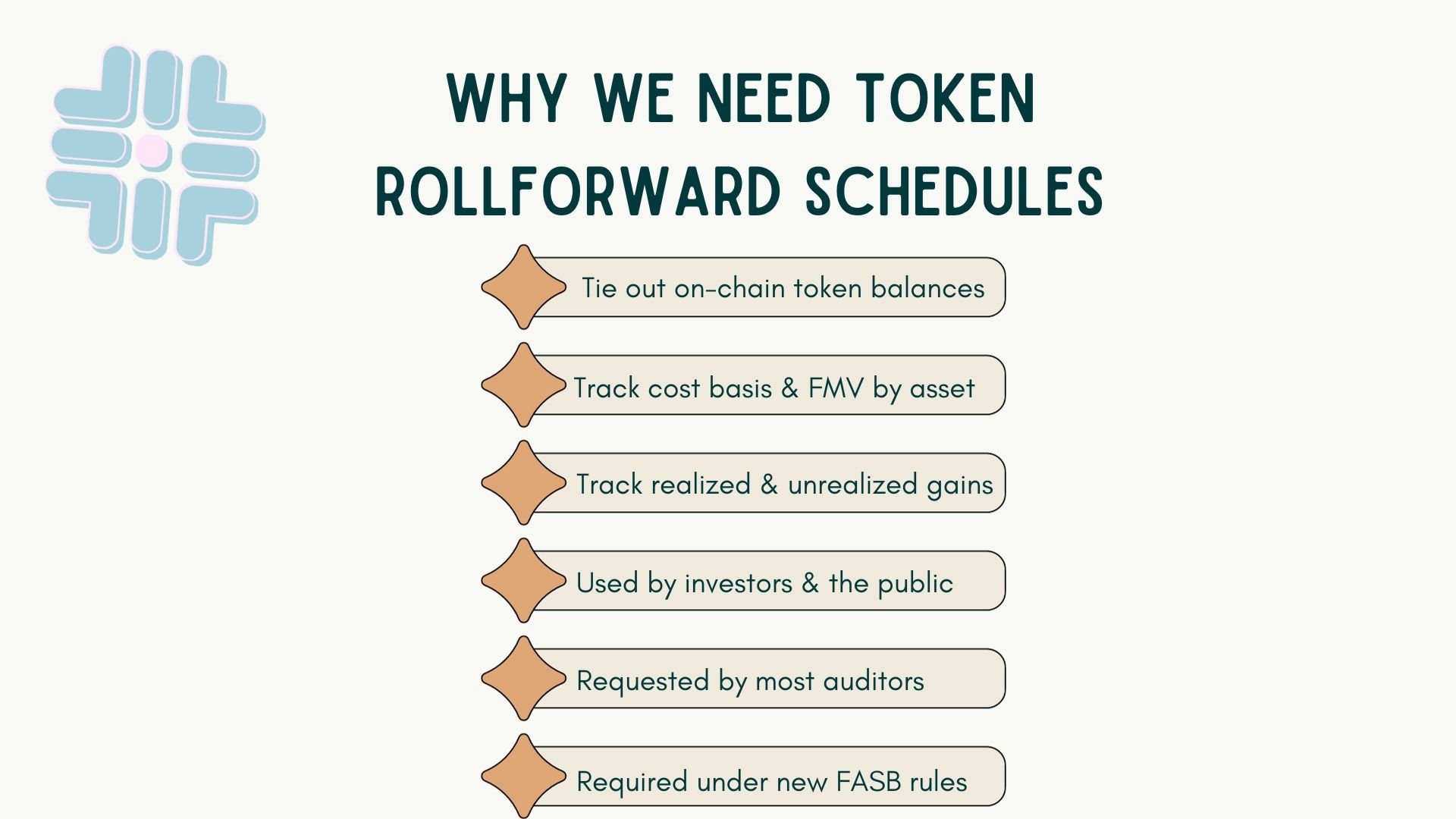 Exploring the significance of token roll forwards, Mackenzie emphasizes their importance for both accountants and the public:
"They let you really easily tie out to on-chain token balances to your books... The roll forward should match your books, should match what is happening on chain."
These schedules provide transparency, allowing stakeholders to understand how a company manages its crypto assets. Moving beyond the technicalities, Mackenzie further explores the significance of a token roll forward, highlighting their dual utility for accountants and the public:
"These schedules facilitate easy reconciliation between on-chain token balances and accounting books, serving as a transparent snapshot of a company's crypto activities."
In emphasizing transparency, token roll forwards emerge not just as accounting tools but as windows into a company's crypto management practices.
Regulatory landscape and FASB rules
Mackenzie sheds light on the regulatory landscape, particularly the Financial Accounting Standards Board (FASB) rules: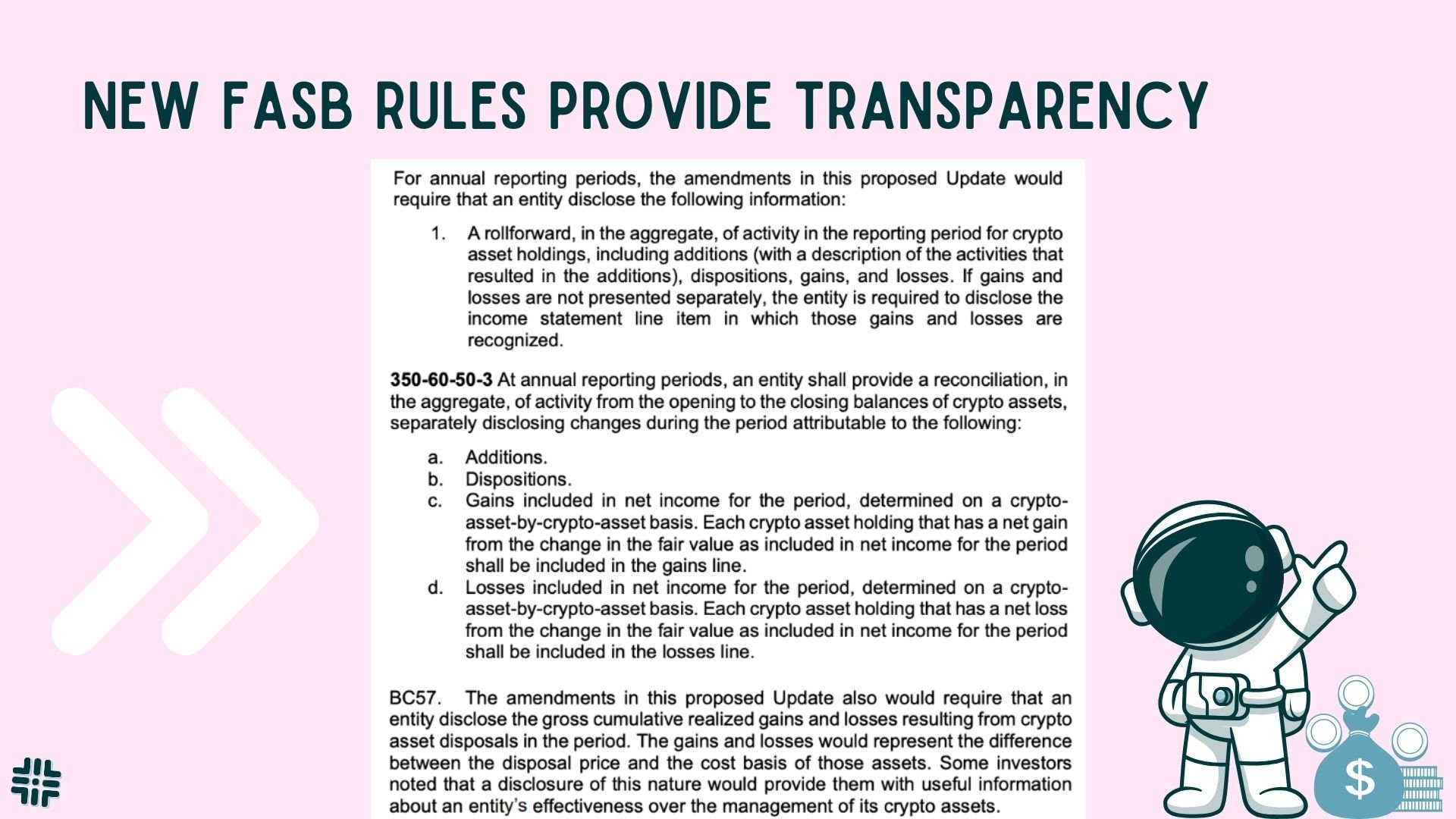 "The roll forward is requested and actually, as it turns out, to be required by auditors... this roll forward is going to be required under the new FASB rules."
She provides insights from a recent FASB board meeting, hinting at potential exceptions for specific crypto transactions, adding a layer of nuance to the evolving regulatory framework.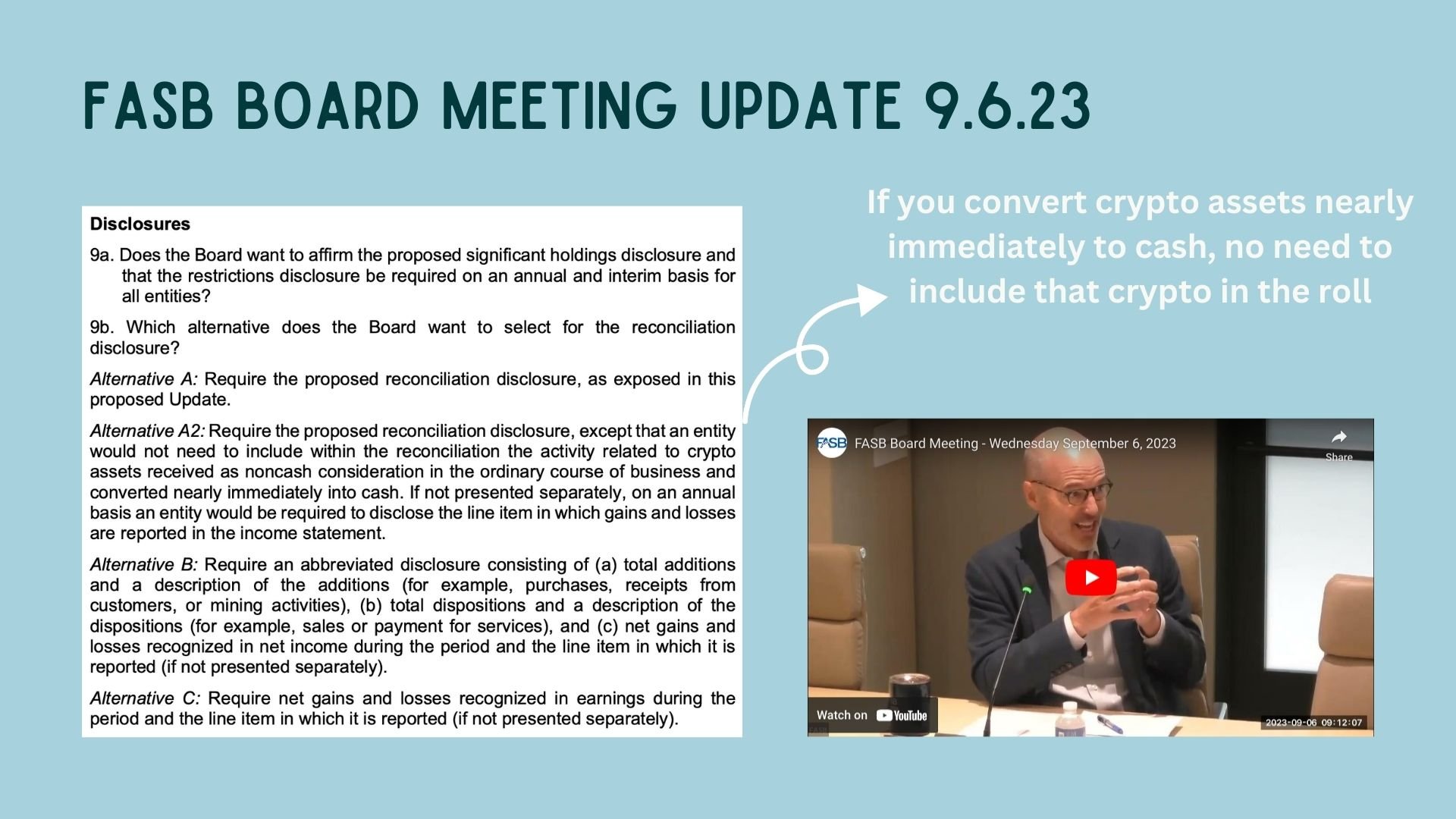 "Auditors now demand and regulators recommend the inclusion of roll forwards, making them mandatory under the new FASB rules."
This emphasis on compliance and the ever-evolving regulatory landscape adds a layer of complexity to the role of token roll forwards in contemporary financial reporting. These insights provide a nuanced understanding of the challenges and imperatives faced by enterprises and crypto businesses navigating this regulatory landscape.
Components of a token roll forward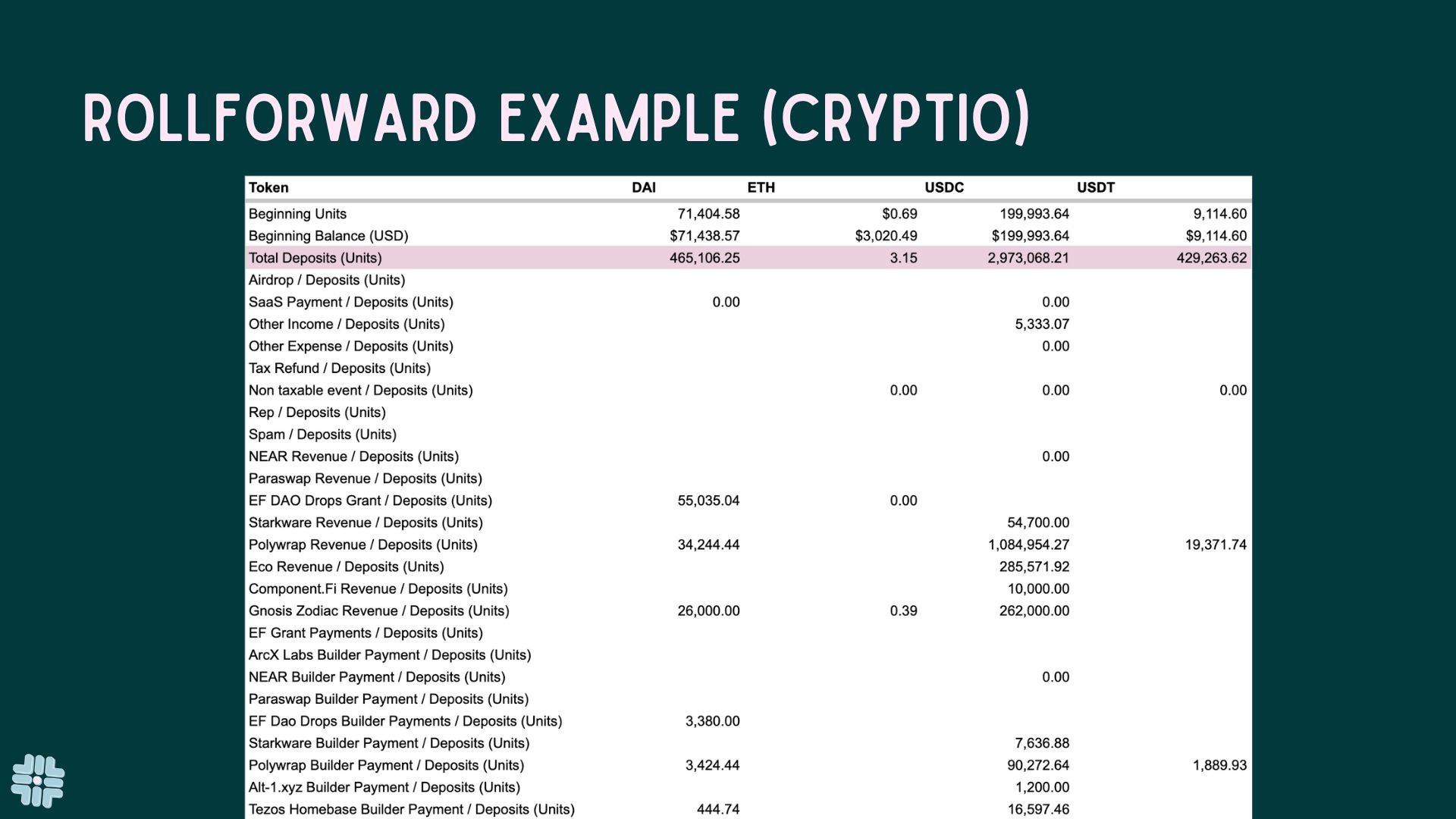 Moving into the practical realm, Mackenzie walks us through a real-life example using a roll forward report from Cryptio:
"I do part-time accounting for a DAO called dOrg, and this is the numbers from there."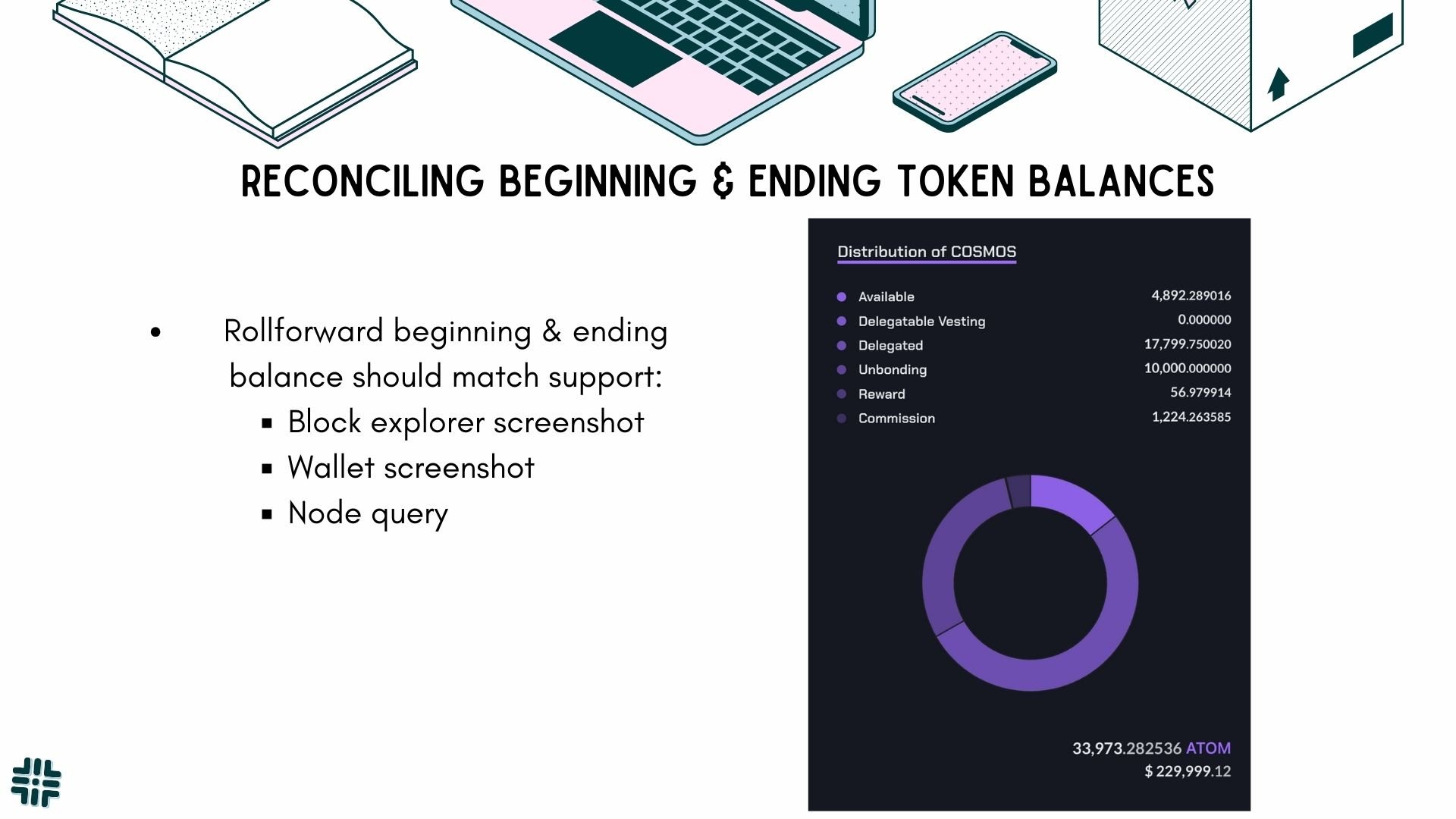 She breaks down the components, from reconciling token balances to understanding additions and dispositions, offering valuable insights into the nuances of crypto accounting.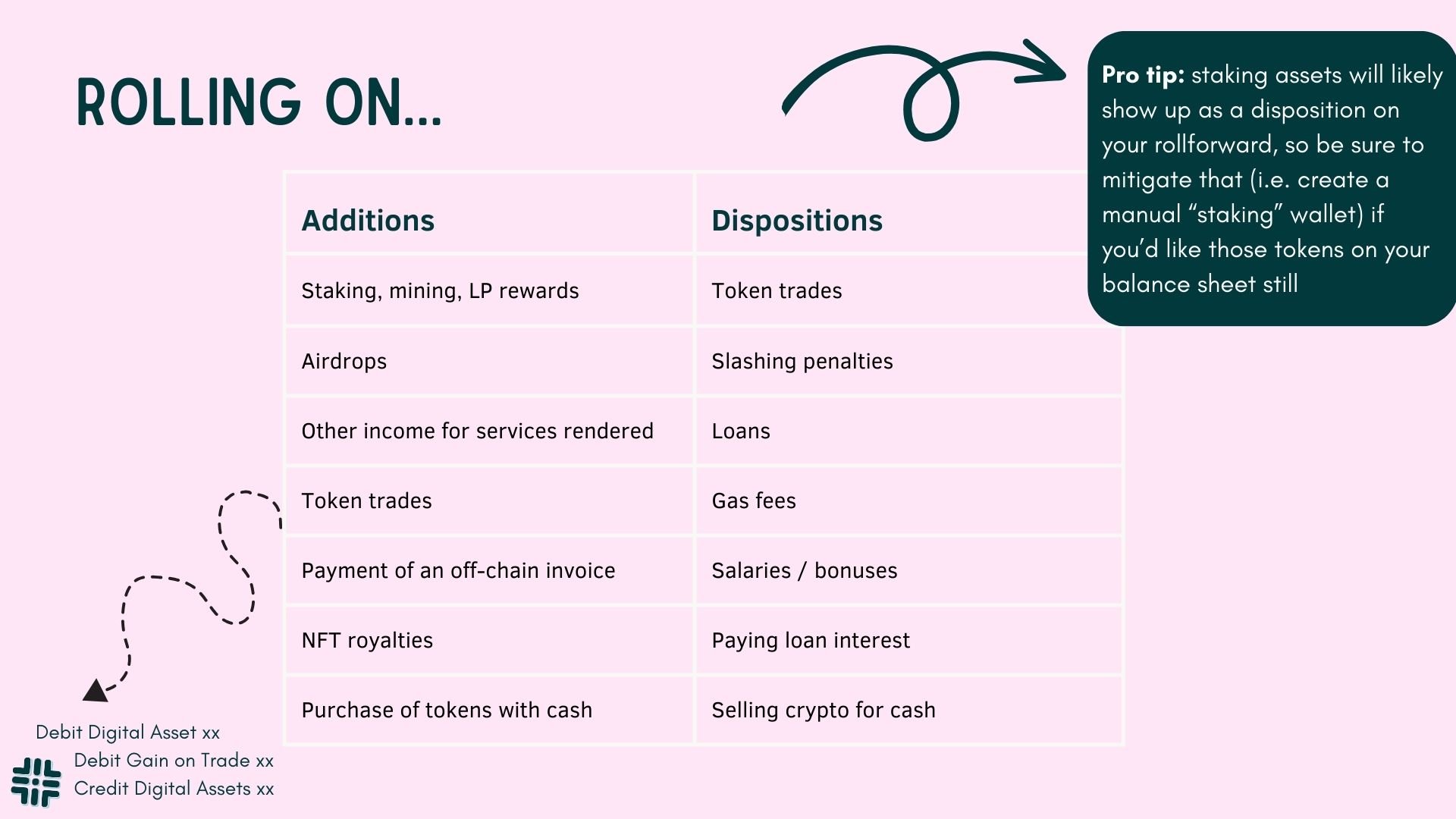 "By dissecting a roll forward report from Cryptio, we can grasp the intricacies, from reconciling token balances to deciphering additions and dispositions."
This hands-on approach offers a practical understanding of the nuances involved in crypto accounting, grounded in a tangible case study.
Transitioning to USD: cost basis and fair value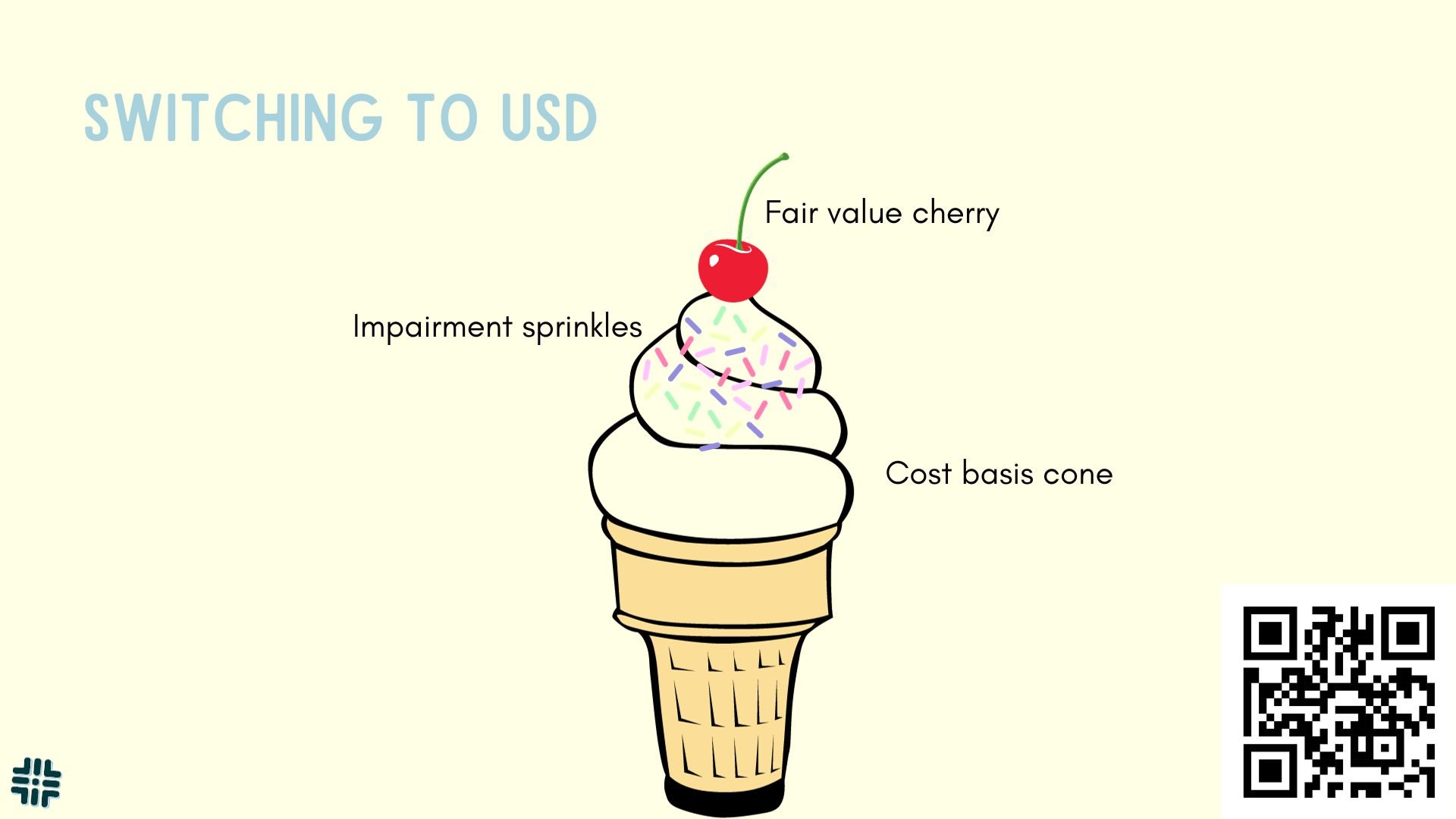 In the final section of the panel, Mackenzie transitions to the USD aspect of the roll forward, using a creative ice cream cone analogy:
"Imagine we have an ice cream cone, and the base of the ice cream cone, which is the ice cream, is your cost basis or the price when you originally acquired your crypto assets."
She clarifies the changes in calculations, such as impairment and fair value adjustments, under both current and anticipated FASB rules.
The ice cream cone analogy serves as a great tool, aiding in the comprehension of complex concepts such as cost basis and fair value. Mackenzie meticulously breaks down the shifts in calculations under both current and anticipated FASB rules, providing a holistic view of the USD dimension in crypto accounting.
Token roll forwards: navigating complexity for transparency in crypto accounting
This panel, which provided a deep dive into practical accounting techniques, helps enterprises and businesses undertaking crypto accounting better understand token roll forwards.
These schedules, stemming from ancient record-keeping practices, now emerge as indispensable tools, bringing transparency and accountability to the dynamic world of crypto accounting. Something that is much needed in the crypto industry today.
Want to learn more about the Crypto Finance Forum? Visit our YouTube channel to re-watch all the panel sessions, and the CFF blog to read each recap.