Managing financial risks: How to implement internal controls to enhance audit readiness
Monitor and mitigate risks more effectively with our best practices guide on internal controls.
Risk control and management procedures are essential for crypto enterprises to prevent potential financial losses, reputational damage, or regulatory non-compliance. With increased SEC scrutiny, robust internal controls are expected and thoroughly tested by auditors.
If you're a crypto CFO or Financial Controller, Cryptio's Controls and Risk Management dashboard will help you manage the following risks:
Inaccurate or incomplete accounting and reporting of crypto transactions across chains, exchanges, and custodians.
Incomplete mapping and reconciliation of crypto transactions to the general ledger.
Missing transactions related to complex on-chain activity.
Manual data input and human error.
Counter-party risks and identification.
Manipulation of financial records, data breaches and lack of compliance.
The module also enables you to test internal controls and document evidence for audit. In addition, you can streamline accounting operations and month-end closing processes using the Controls and Risk Management module.
This guide covers the importance of maintaining robust internal controls and how crypto CFOs and financial controllers can implement them easily with Cryptio's Controls and Risk Management.
Facing the consequences - the challenges of inadequate controls
Internal controls are intended to prevent errors, identify problems and provide a pathway to corrective action. Common internal controls for crypto businesses include:
segregation of duties;
access controls for wallets and passwords;
secure storage of private keys;
approvals process of actions and transactions.
During audits, enterprises need to demonstrate the efficiency of their internal controls with extensive documentation of the testing of these controls.
Failure to provide this evidence risks prolonging the audit, or even failing it entirely.
Without robust internal controls, enterprises and institutions leave themselves at risk of numerous obstacles:
Prolonged audits: causing increased fees, delays to the audit process and potential reputational damage.


Increased risk of fraud and misappropriation: lack of segregation of duties, inadequate approval processes, and insufficient checks and balances can make it easier to manipulate financial records.


Inaccurate financial reporting: there is a higher probability of errors, omissions and misstatements in financial records when robust internal controls are not in place.


Compliance and regulatory challenges: proper internal controls help organizations to meet anti-money laundering (AML) and know-your-customer (KYC) requirements.


Inadequate asset safeguarding: robust internal controls help to mitigate the risk of security breaches, hacking incidents, and loss of assets.


Inefficient processes: without well-documented processes and clear ownership, there may be a lack of standardized processes, inefficient workflows, and confusion regarding responsibilities.
With the release of Cryptio's Audit Readiness module, which includes the Controls and Risk Management dashboard, you can mitigate these risks and ensure a smoother audit process.
Preparing you for audit through robust controls and risk management capabilities
Cryptio's Controls and Risk Management features two dashboards where financial controllers can document controls and perform testing while generating a comprehensive audit trail. These reports can then be submitted as part of the documentation presented to auditors.
Let's dive deeper into the features.
Controls Checklist
The Controls Checklist provides a centralized view of your control framework that serves as a to-do list, highlighting controls that require attention and testing. It allows you to categorize controls based on risk types and suggests the recommended frequency that you should test each of your controls. You can assign preparers and reviewers for each control, ensuring segregation of duties, and test each control in-app.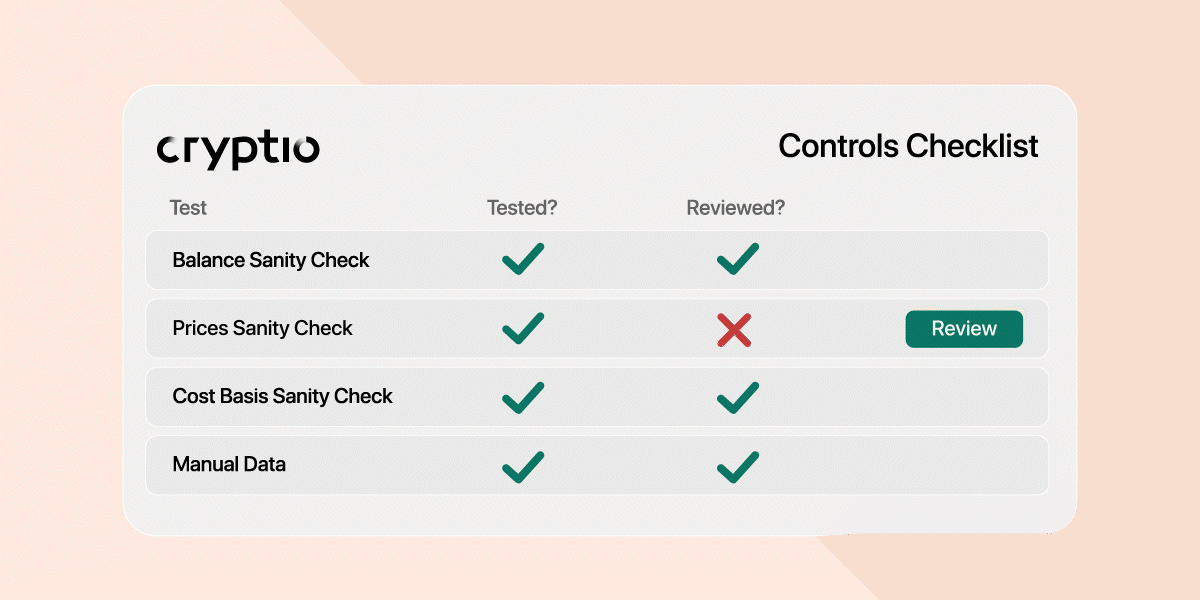 Testing Trails
The Testing Trails feature enables you to perform control tests and document the results. It allows you to record testing activities, capture evidence, and track testing progress. You can add comments, categorize notes, and generate reports to provide a comprehensive audit trail. The Testing Trails view records all executed controls, ensuring transparency and supporting compliance requirements.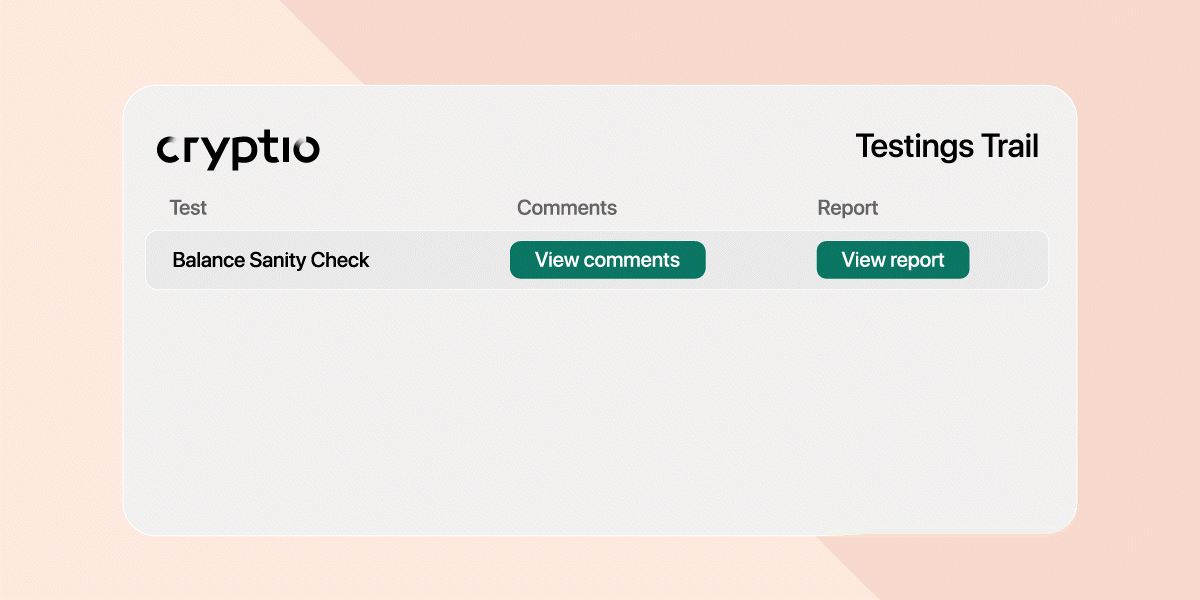 Unlocking audit-readiness and streamlining accounting operations
Cryptio users can reap numerous benefits from the Control and Risk Management module. The module empowers teams to identify control design gaps, enhance risk awareness, and optimize control environments. With real-time visibility into the progress of controls and testing, users can make data-driven decisions and take proactive actions to address potential issues. Furthermore, the module provides audit-ready documentation, streamlining your audit preparation.
Ensuring Audit Preparedness
Cryptio's Control and Risk Management module provides features specifically designed to ensure audit preparedness, saving you time and money during the audit process.
The module captures controls evidence and logs all relevant activities, including time-stamped preparer and reviewer sign-offs. Organizations can reduce audit fees and facilitate smoother audits by enforcing control testing and documenting evidence. The module also matches controls to risks, extending risk detection and prevention efforts for Finance and Accounting teams.
Streamlining Accounting Operations
By allowing you to embed controls into your accounting operations, the Controls & Risk Management module enables you to streamline your accounting and financial reporting.
The module provides clear visibility into ownership and accountability, allowing teams to assign preparers and reviewers for each control. With a collaborative checklist and qualitative feedback, communication between management and staff becomes seamless, enhancing workflow management and reducing errors.
Accelerating Month-End Closing
Month-end closing can be a challenging and time-consuming process. However, organizations can accelerate their month-end closing activities with the Control and Risk Management module.
The module offers an actionable testing checklist that ensures automated trial balance tie-outs, balance reconciliation, and accuracy of prices and cost basis. By proactively addressing discrepancies and optimizing controls, finance teams can expedite the month-end closing process, leading to more efficient financial reporting.
Helping our clients get audit-ready
Cryptio's Control and Risk Management module revolutionizes the way organizations manage their internal controls. Risk control and risk management are integral to a business's health and need to be evidenced during an audit. Failing to demonstrate your internal controls in place and evidence of testing enterprises and institutions risk failing audits or being subject to prolonged audits.
The Controls and Risk Management dashboard provides clear visibility and actionable insights during audit preparation. As a result, organizations can easily maintain strong internal controls, comply with regulatory requirements, and get ready for audit effectively.
Curious about how we can help you get audit-ready? Book a demo today.