Crypto reconciliation controls: Ensure accurate general ledger entries
Ensure your internal database, sub-ledger and general ledger are reconciled in an auditable way.
If you're an accountant or financial controller at a crypto enterprise, ensuring you have accurate and complete financial data is vital. Using a crypto sub-ledger like Cryptio can help with retrieving accurate data. However, you still face the issue of reconciling the sub-ledger with your general ledger, which requires correct account mapping in your sub-ledger. Failing to reconcile your on-chain transaction data with your general ledger leaves you at risk of producing inaccurate financial records.
Cryptio's Reconciliation module is specifically designed to address this challenge. With the in-app capabilities, you can easily:
Test the completeness and accuracy of account mappings to your general ledger.
Streamline the Chart of Accounts (CoA) mapping and sync process.
This module sets the foundation for complete IFRS and GAAP-compliant reporting ready for audit.
The high
risk of incorrect financial statements impacting the audit
Using a crypto sub-ledger that's purpose-built for accounting and financial reporting can significantly reduce the risk of inaccurate or incomplete transaction data. To reconcile this data with your general ledger, you need to map transactions to the CoA, dividing them into five account types assets, equities, liabilities, expenses and income.
Incomplete mapping or error in this process can substantially imbalance the double-entry accounting process (debit vs credit). Therefore, it is vital that you use the right methodology to ensure accurate financial records and compliance with accounting standards. With Cryptio's Reconciliation module, it is easier than ever to adhere to this methodology.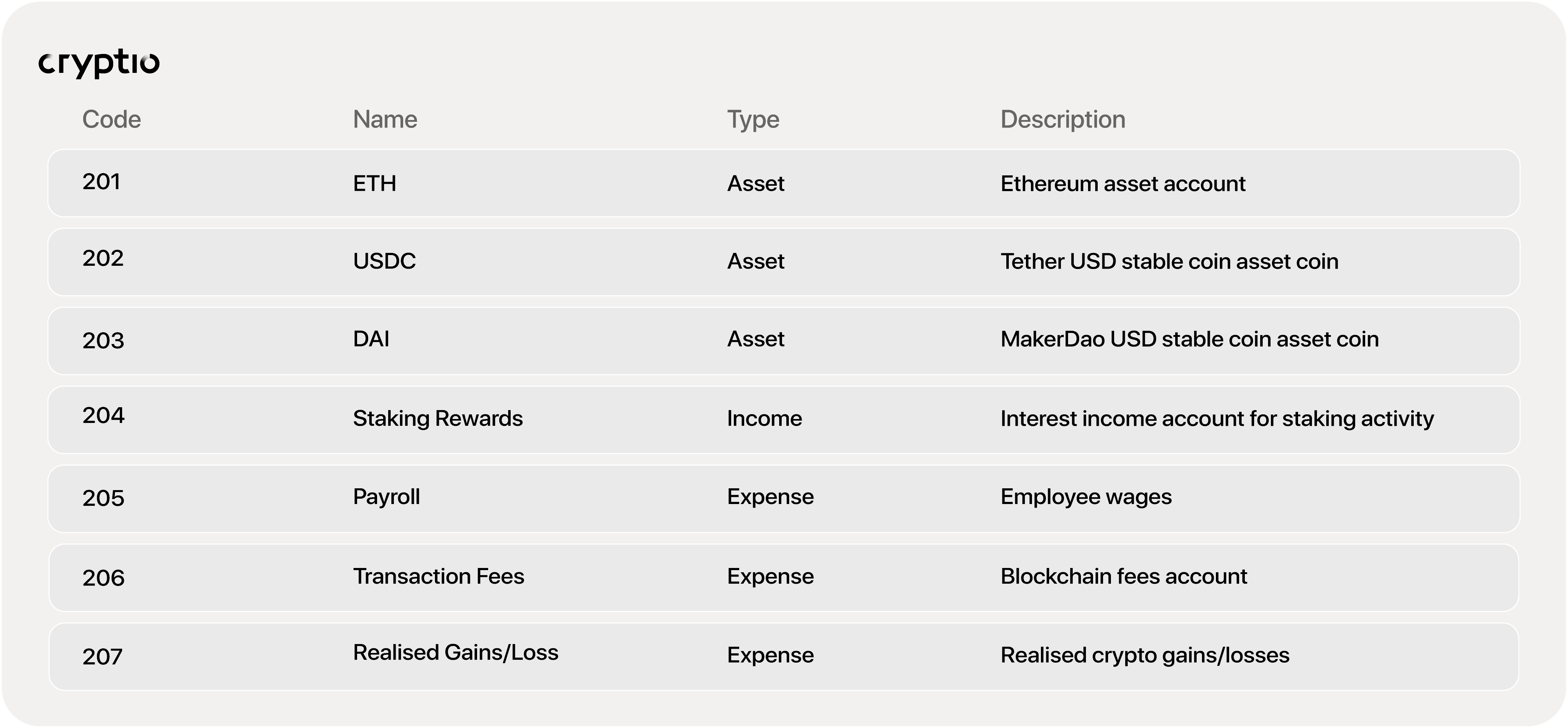 Streamline financial accuracy with Cryptio's Reconciliation module
Cryptio's Reconciliation module helps you create accurate and complete financial records in our crypto sub-ledger that you can directly sync to your general ledger like Netsuite, Quickbooks and Xero. We also cover a wide array of accounting softwares like SAP, Dynamics 365, FinancialForce, Sage and Workday.
With our Reconciliation module powering your audit preparation, you can be confident that your accounting and financial reporting is accurate and complete, reducing the risk of failing or prolonging financial audits.
Let's dive into the ways the Reconciliation module enables you to have confidence in your ledger entries.
Dynamic labeling system to support reconciliation
A complete crypto sub-ledger reconciliation starts with a dynamic labeling system, which helps categorize millions of on and off-chain transactions into categories associated with the chart of accounts.
In Cryptio, our labeling system automatically categorizes 50+ types of transactions to lighten the burden faced by finance teams and reduce the time taken to complete reporting. These labels can then be used to map transactions to the CoA and ultimately push them to your general ledger, ready to be reconciled with your fiat accounting.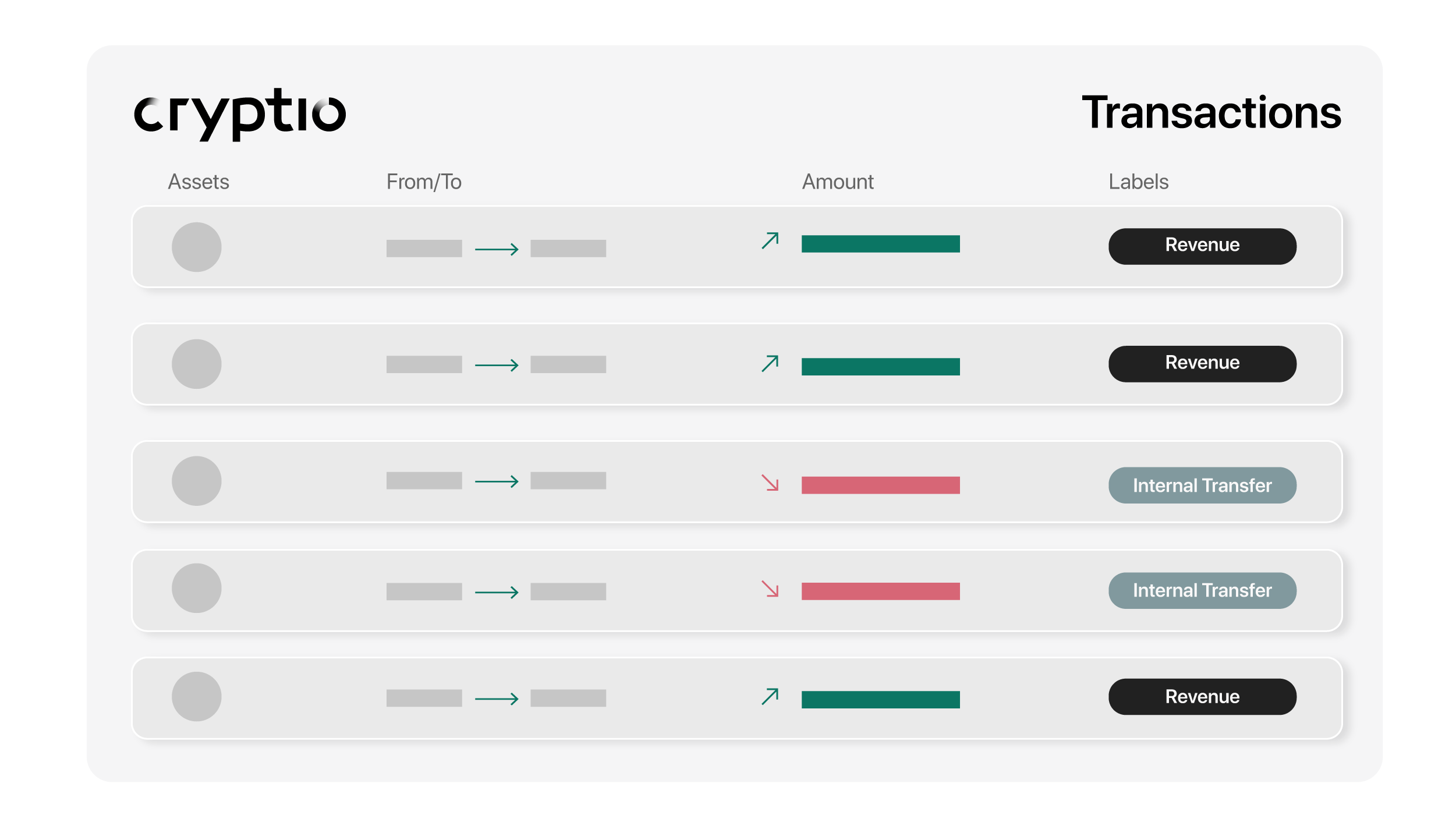 Ensure a complete and accurate sub-ledger with trial balance
Usually prepared at the end of the month or the fiscal year, a trial balance is a statement that checks that the debit and credit totals of the general ledger accounts match. Through this check, you can ensure that debits and credits have been correctly entered during the double-entry accounting process. Businesses preparing for audit need to evidence testing of trial balances.
In our Reconciliation module, you can check trial balances are complete and accurate across the five different account types. You can test trial balances for the entire transaction history or specific time periods.
This is a critical internal control that helps to identify errors, discrepancies and unrecorded transactions, helping you to ensure accurate financial reporting.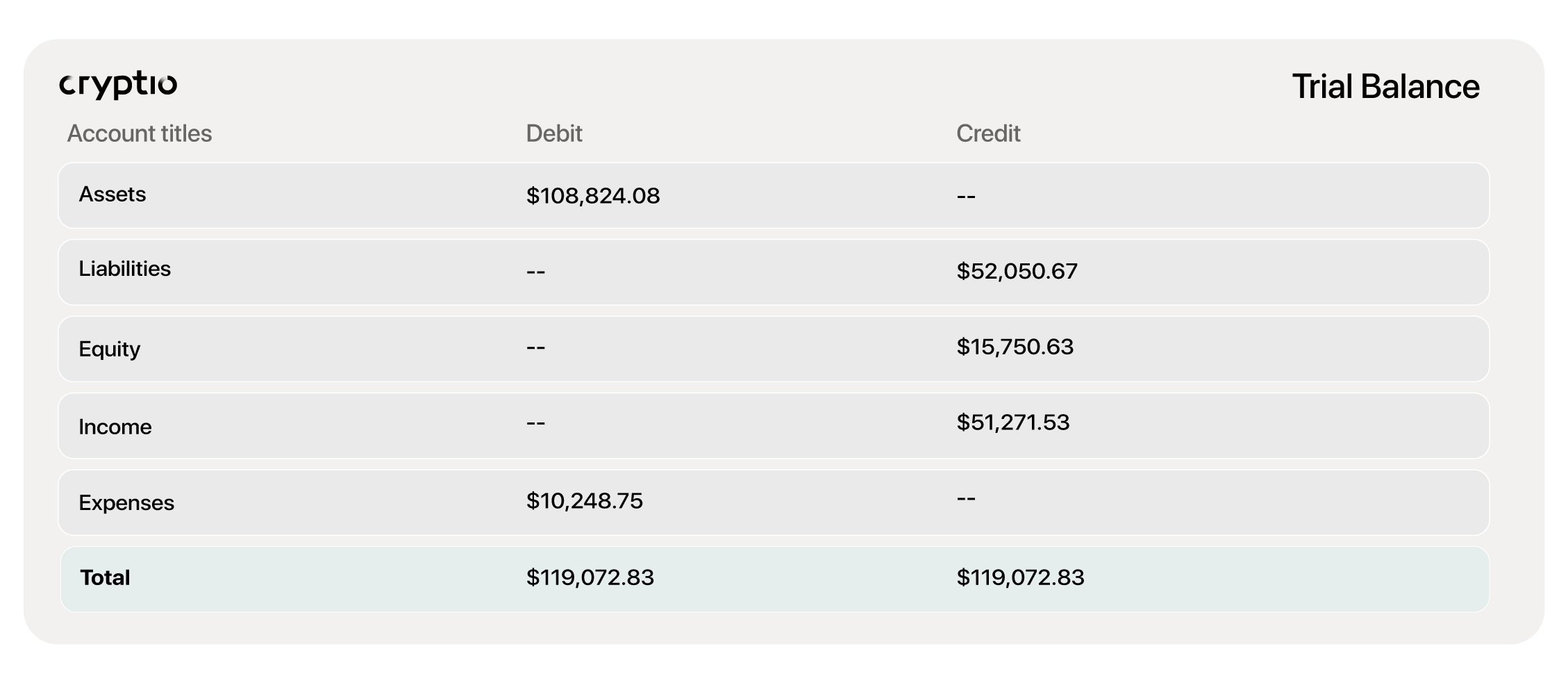 Resolve incomplete CoA mapping and streamline the mapping process
Producing accurate and complete financial records requires you to have mapped your transactions correctly to the CoA. However, human error can sometimes lead to incorrect CoA mapping.
Within the Reconciliation module, you can view every transaction that has incomplete CoA mapping. The module also gives you statistics that reveal the overall accuracy of your mapping. As a result, you can identify errors and discrepancies swiftly and rectify them all in one place. Previously, you might have cross-checked various sources of data - a very time-intensive process. With Cryptio's Reconciliation module, you can significantly reduce the time taken to identify and resolve red flags.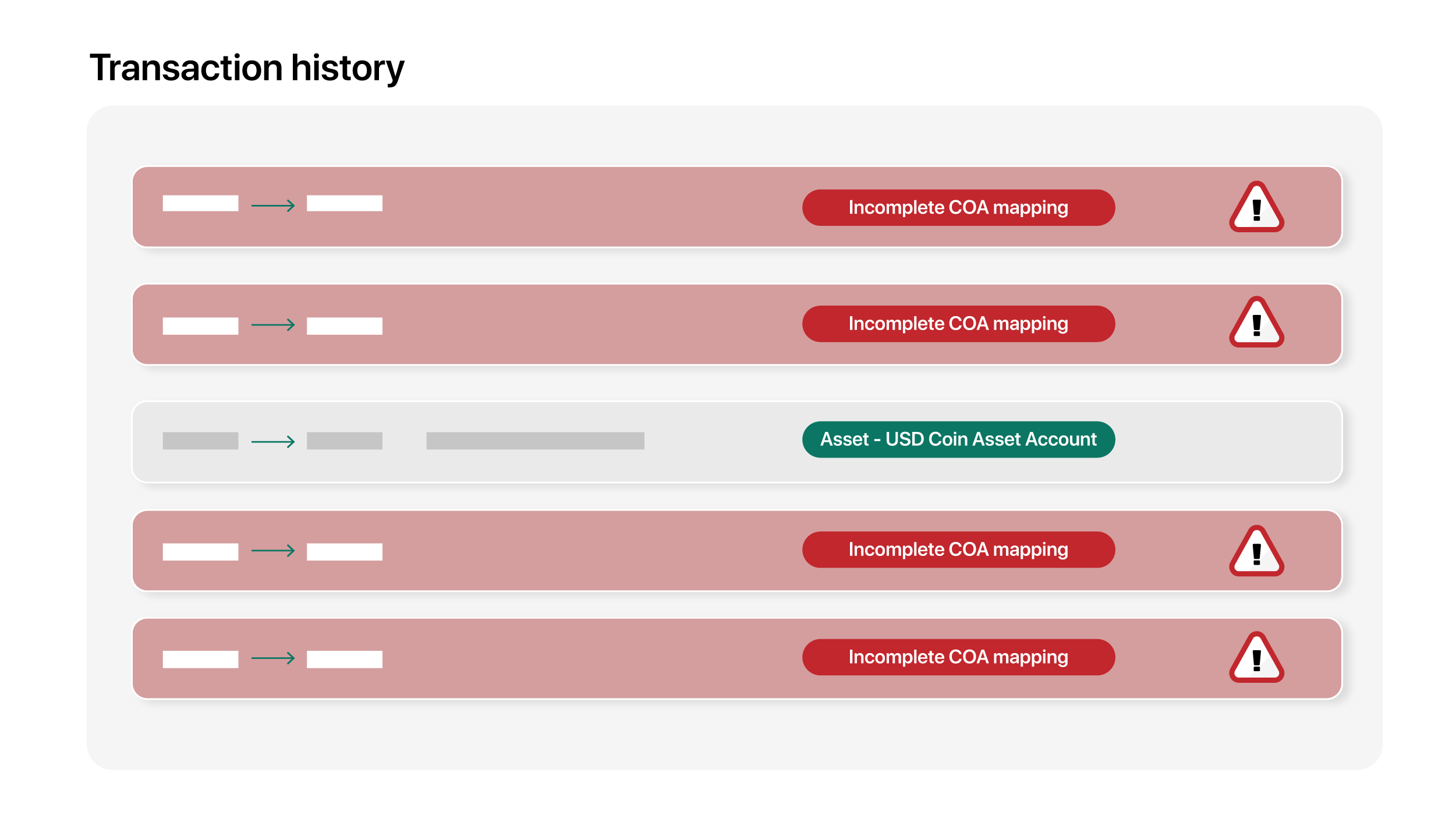 Enhance audit preparation with the Reconciliation module
Cryptio's Reconciliation module offers a number of benefits however it plays a crucial role in the audit preparation of the 350+ businesses we're helping with accounting and financial reporting.
Using Cryptio's Reconciliation module, you can enhance your audit preparation by:
Ensuring accuracy: By reconciling financial records, auditors can verify that all transactions are accurately recorded and that there are no discrepancies in the data. This process helps maintain the integrity of financial reporting.
Identifying errors and fraud: Financial reconciliation serves as a crucial internal control to detect any errors, omissions or questionable activities in the accounting records. Using the Reconciliation module to bolster your internal controls helps to detect any irregularities and mitigate associated risks.
Complying with accounting standards: The financial reconciliation controls you can implement with the Reconciliation module help you to ensure that your company's accounting practices align with GAAP or IFRS.
Creating an audit trail: Proper financial reconciliation creates a clear and well-documented audit trail, facilitating a smoother audit process. Verifying financial data is time-intensive for auditors. Reducing the time taken to complete audits reduces the costs involved.
CFOs, Internal Controllers and auditors can all benefit from the Reconciliation module
If you're a CFO, you can be sure of the accuracy of the financial data and its compliance with international accounting standards. With complete trial balances, Cryptio's Reconciliation module helps you to ensure precise financial reporting. When presenting to stakeholders for critical decision-making, you can rest assured that the financial statements are accurate and free of errors and irregularities.
For Internal Controllers, the Reconciliation module's enhanced control and risk management capabilities help to streamline and simplify the reconciliation process. You can easily identify and rectify any errors and discrepancies in the dashboard. CoA mapping and trial balance functions are also simplified in the module and help you to align your financial processes with industry best practices.
The work of an auditor is simplified by a well-documented audit trail and streamlined verification process. Cryptio's Reconciliation module ensures trial balances are complete and accurate, streamlining the verification process. With errors and anomalies minimized, auditors can focus on substantive testing and gain confidence in the financial data's reliability.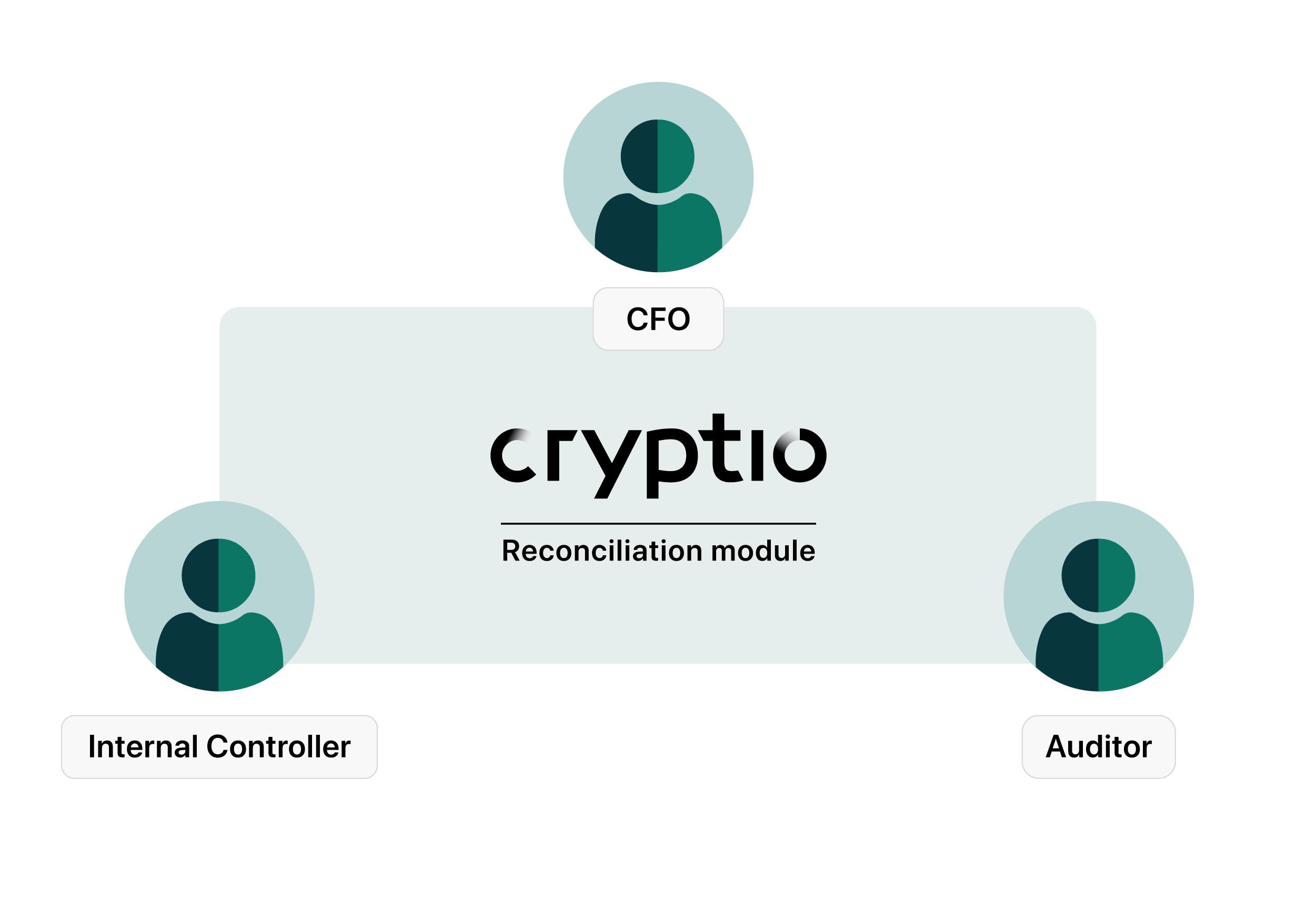 Empowering enterprises and institutions with Cryptio's accounting reconciliation
Implementing internal controls during the reconciliation process is made easy with Cryptio's Reconciliation module. Using the Reconciliation module ensures simpler audit preparation with its time-saving features and greater accuracy of your financial records. The Reconciliation module helps you to ensure the accuracy and completeness of transaction data through in-app trial balances and checks of CoA mapping.
Book a demo with our team today and witness how this tool can help your enterprise get audit-ready.