How Ethereum's merge impacts your balance sheet
With the upcoming ETH merge, many companies have questions about whether their books and records will be impacted if they currently hold ETH as an asset. Understanding the impact is key to establishing proper accounting for this merger. Let's dive into it.
What is the ETH 2.0 Merge?
The ETH 2.0 Merge will see the consensus mechanism of the Ethereum blockchain switch from Proof-of-Work (PoW) to Proof-of-Stake (PoS) by merging it with what is known as Beacon Chain. Beacon Chain is a PoS blockchain that currently exists and will serve as the foundation for Ethereum's new consensus adoption. Fortune wrote a great article on the technical details of this merger.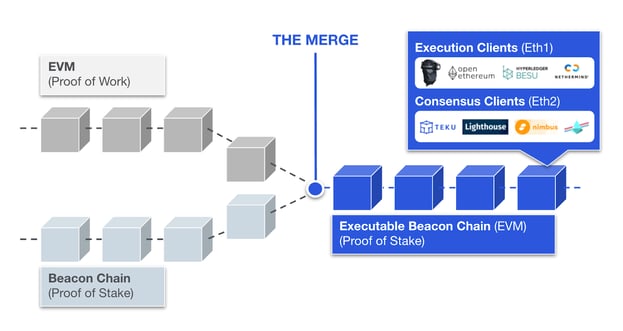 Diagram Credit: ConsenSys
What will change from the merge?
As the validation method for PoS consensus does not require mining blocks through the use of hardware and electricity, the major benefit will be in energy consumption. According to the Ethereum Foundation, energy usage required to validate transactions on the network will fall by 99.95%. This is great news for the network in battling previous climate-related criticisms of being PoW. A couple other notes to clarify:
Gas fees will not reduce as a direct result of the merger. There are other planned updates to combat high gas fees but day one of the merge will not include these.
The new network will only be slightly faster in terms of transaction speed compared to its current state but not materially.
Miners for the current version of ETH will no longer be able to mine blocks on ETH 2.0. There are considerations by miners to hard fork ETH 2.0 once live in order to reinstate their own PoW version of the network that will exist separately and carry its own independent value. This is still speculation and not guaranteed to take place or have traction. Considering Ethereum Classic already exists as a PoW version of the network, the value will remain to be seen.
What does this mean for a company's books and records?
There is good news on this front! Although the merger has all the makings of a hard fork, there will not be a new token issued as a direct result and therefore no changes to a company's balance sheet. Outside potential price volatility from trading speculation on the results of the merge, ETH will continue to function as the same asset post merge. This means companies will not be airdropped or need to "claim" a separate asset.
In the event of the potential mining hard fork discussed earlier, US companies would need to recognize that newly created asset as "other income" under IRS rules when received and additionally recognize capital gains/losses when the new asset is sold.
HMRC rules are a bit more generous, receipt of a hard forked asset is not treated as "other income" but capital gains/losses will still be recognized when sold for UK clients.
To note again, this is only a consideration of post-merge events and does not need to be considered for the actual merger.
Key takeaway
While this is no doubt a major milestone for one of the largest networks in the cryptocurrency industry, there will thankfully be minimal disruption in maintaining books and records for our clients and their assets.
Sources
Note: This article is for educational purposes and must not be treated as financial advice