Managing counterparty risks: Conduct materiality-based investigations with Cryptio
Streamline accounting and manage fraud risk by tracking all transactions, ordered by materiality with each counterparty.
Since records of on-chain transactions do not contain traditional identifying information, crypto enterprises are likely to have a higher number of unidentified counterparties, posing risks and compliance issues for companies. That's why Cryptio has built its Related Parties Module.
With the module, accounting and finance teams at crypto enterprises can streamline the process of identifying counterparties. As a crypto CFO or accountant, you can use the Related Parties Module to:
Conduct materiality-based investigations to more easily identify counterparties.
Generate complete transaction histories with all counterparties identified.
Meet disclosure requirements for GAAP and IFRS, helping you to remain compliant with regulations.
Mitigate counterparty risk.
Identifying related parties is essential to achieving audit readiness
Accounting standards worldwide require businesses to disclose transactions such as sales, leases, service agreements and loan agreements with related parties.
The most common types of related parties are:
Business affiliates;
Shareholder groups;
Subsidiaries;
Minority-owned companies.
Since related party transactions may lead to conflicts of interest and potentially illegal situations, they are scrutinized closely by auditors and regulators. Due to the pseudo-anonymous nature of on-chain transactions, crypto enterprises have additional challenges in identifying all counterparties.
Therefore, identifying related party transactions might be difficult for crypto enterprises, posing a number of risks to the business, such as:
Completeness issues: Unidentified related party transactions may lead to incomplete financial statements and inaccurate reporting.
Risk management challenges: Conducting materiality-based investigations to monitor counterparty risk becomes difficult without a robust mechanism to identify related parties.
Compliance concerns: Companies must comply with regulatory requirements for disclosing related party transactions, and the absence of a reliable system for identification can hinder this process.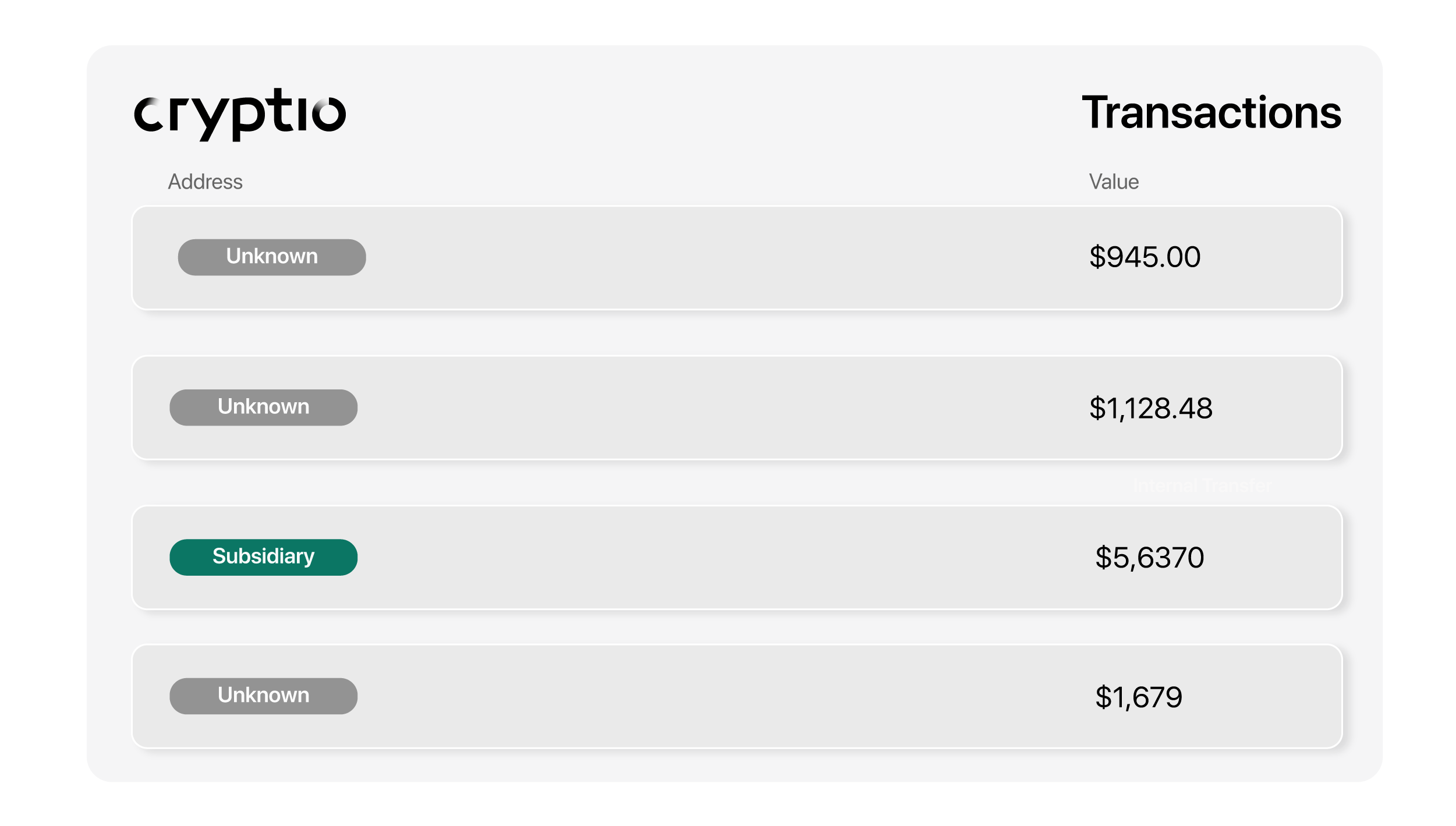 Internal controls around related party transactions are needed to pass audits
Crypto companies need to implement and maintain appropriate processes and controls around related party transactions to ensure audit success. If these controls are inadequate, you might face a prolonged audit, meaning fees increase, as does the likelihood of failing the audit.
Cryptio's Related Parties Module is designed to help you mitigate counterparty risks. The module allows you to track all movements with unidentified counterparties across 35+ chains and determine the materiality of these interactions.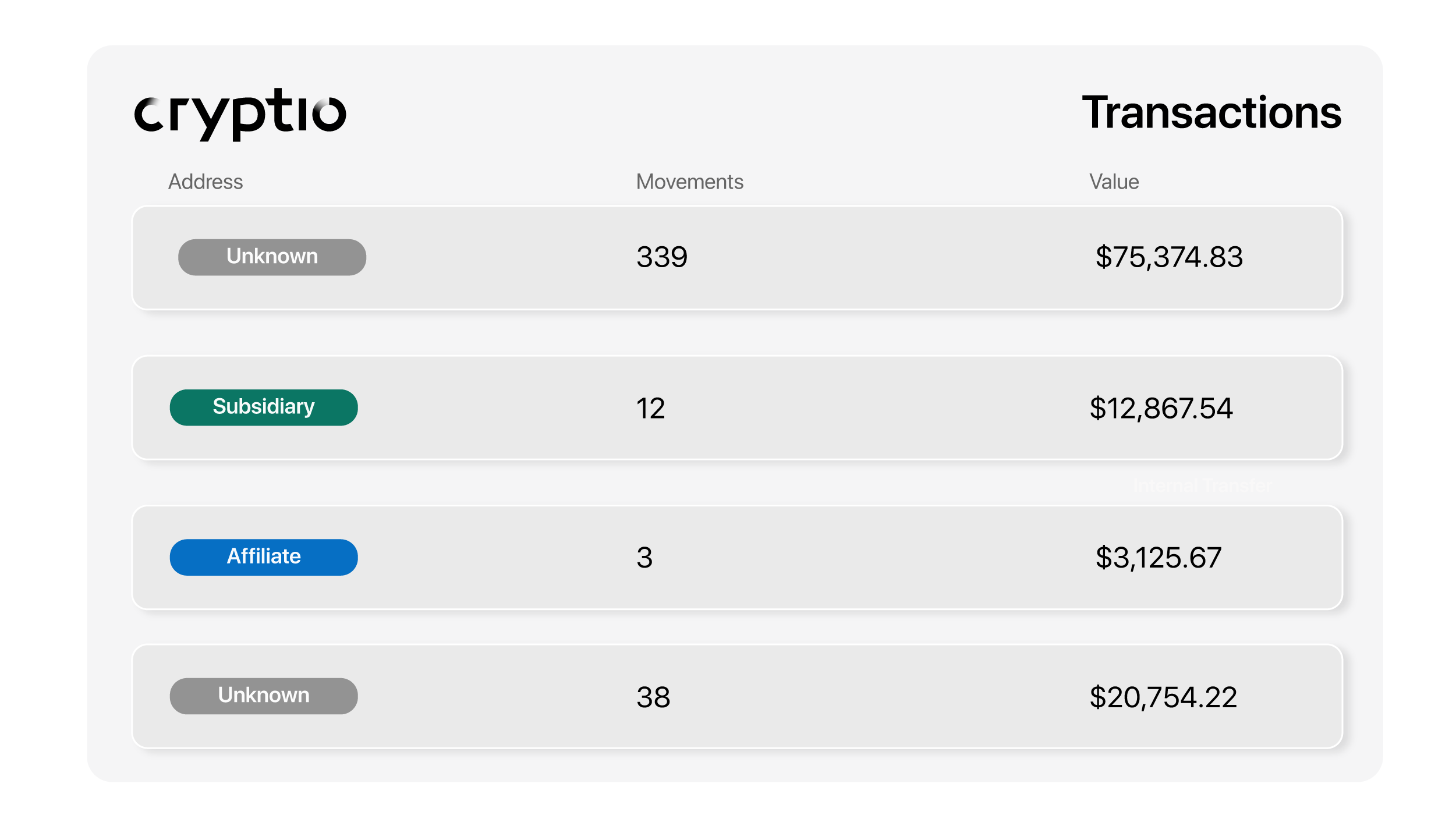 A deep dive into the Related Parties Module
With the module's features, you can streamline and simplify the process of identifying related parties and disclosing transactions with them. Let's take a look at the two key features of the Related Parties Module.
1. Counterparties identification
The Related Parties Module features a dashboard where you can view comprehensive information about transactions involving unidentified counterparties.
The number of interactions associated with each address is listed in the dashboard and the fiat value of all the movements. This allows you to determine the materiality of transactions with each counterparty and identify the most significant related parties.
You must disclose in your financial statements the number and value of movements with addresses where there is material activity. This dashboard allows you to simplify the identification process while ensuring accuracy and completeness in your reporting.
Within the dashboard, you can identify counterparties, giving them an address name to find them more easily in your transaction history.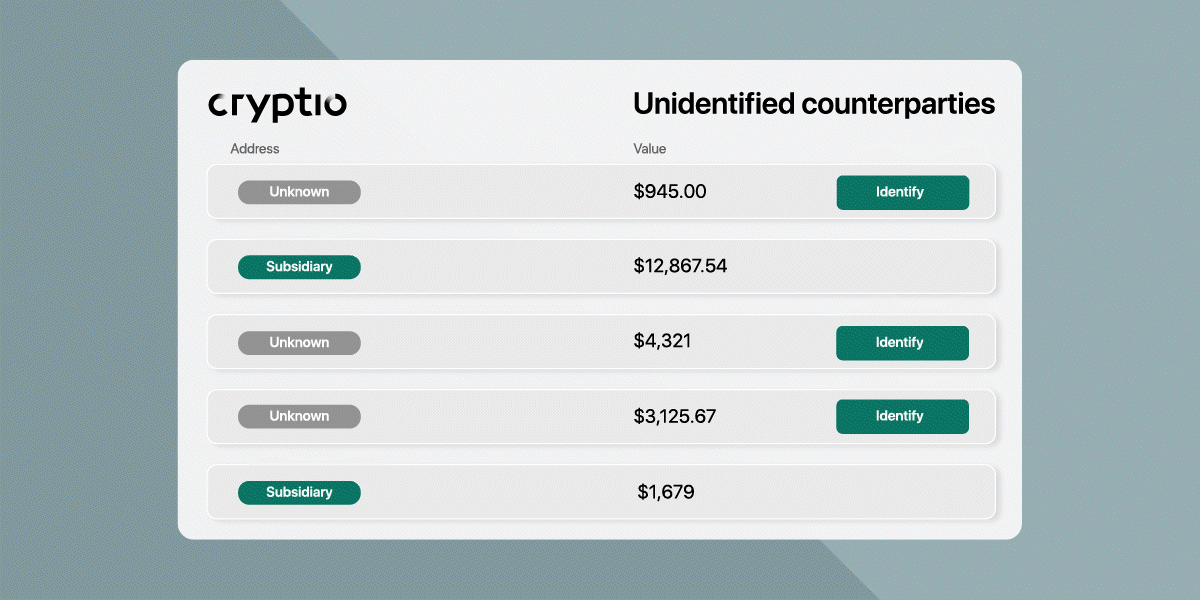 2. Reporting on unidentified counterparties
The Related Parties Module simplifies reporting around related party transactions by allowing you to automatically generate a report of all unidentified counterparties. The report contains comprehensive information on the movements between your wallet and each unidentified counterparty, allowing you to determine the materiality of activity with each one.
With the Related Parties Module, companies can take control of their audit-readiness journey. From risk management to compliance and performance monitoring, the tool provides deeper insights, enhances decision-making capabilities, and ensures comprehensive related party analysis.
Simplify related parties analysis for audits with Cryptio
Businesses and institutions with on-chain transactions can now mitigate counterparty risks with Cryptio's Related Parties module. The dashboard enables users to conduct materiality-based investigations, making it easier to identify counterparty addresses with material activity.
Auditors need to see material transactions disclosed in financial statements to sign off audits. If these transactions are not disclosed, auditors usually delay the audit to investigate the missing material transactions. Consequently, the audit lasts longer, leading to an escalation in costs.
Cryptio's Related Parties module streamlines this process, highlighting material transactions that have not been identified. This helps you to identify more easily counterparties for financial disclosures and to effectively mitigate counterparty risks.
Discover how our Related Parties Module can transform your counterparty risk mitigation strategy. Schedule a demo now.